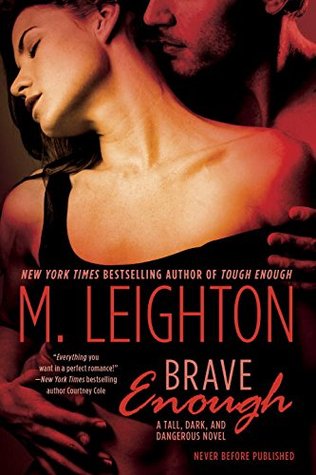 This is the third and final installment of the Tall, Dark, and Dangerous trilogy. I've read each of the books in the series in order. It isn't necessary for you to do that but there is a core storyline that is continued from book to book that I think will make more sense to you if you read in order. Just a quick sidenote, the first installment in the series remains my favorite. This entry is probably my least favorite but it wasn't bad. Just relative to the other two books this was my least favorite of the three.
Brave Enough is Tag's book about his romance with Weatherly. I just have to be petty for a minute and say that I hate the name Weatherly. I'm sorry if that's your name or your Mom's name but it just didn't fit the character in this book in my opinion. Moving on. Weatherly is from an affluent background where her entire life has been pre-planned and structured. When she meets Tag, Weatherly is desperate to create her own destiny instead of succumbing to the life her parents plan for her. Tag is Weatherly's opposite. His life is one free of restraint and inhibition. Tag's passionate approach to everything was exactly what Weatherly needed. I liked that Weatherly found the freedom she was searching for in Tag. The chemistry between the two is instantaneous but the build up of the romance is slower and endearing.
The book lost some steam with me for a reason that might be unfair. When you read a series you have a tendency to compare entries in the series to what came before them. In this case it was the character building that I've come to really expect from this author that I just didn't get in this book. I never really got a good sense of who Tag was. At one point I was wondering if I missed something in the earlier books that would've given me more information but no. There just isn't enough information about Tag. The book is told in dual POV's but I still didn't get an in depth view of Tag. Instead of depicting his emotions about events, events are simply relayed in his voice. When the book was over, I just wanted more.
The other issue I had with this book is that it wasn't as well thought out as the other books in the series. The plot sipped like a scratched CD after the first half of the book. There are some revelations half way through and I'm still trying to sort out the characters reactions and how they made sense in context. Even with all of my criticisms, however, I still say that if you have read this series, this book is a must read. If you haven't read this series, I highly recommend it.
**ARC provided by Publisher**