Hi everyone. So today I have something special for you all. Recently the awesome author/photographer extraordinaire
Jenn LeBlanc
put out a lookbook featuring the uber sexy
Derek Hutchins
and I decided to have them both on the blog today to talk about it. Jenn was kind enough to interview Derek and is letting me share it with you all. So enjoy!
Happy Man Candy Monday everyone!! My name is
Jenn LeBlanc
and you might know me as the author and photographer for
The Rake And The Recluse
, an illustrated romance novel!
Tuesday November 1, 2011 Derek and I launched his first photo book from the past years' shoots. I thought you would like a little insight into Derek's head.
Are you excited about this new venture?
Yes, I could not be more excited. Teaming up with
Jenn LeBlanc
is going to be epic! We have so much fun, and whenever we collaborate on projects, we cause a scene, in a positive way!
Tell us a little bit about it.
Well, "The White" and I are going to be doing independent soliciting of clothing manufacturers and advertisement agencies to offer our services of model and photographer, to complete their advertising projects for them.
How did you get into modeling?
I started off as a photographer with a workout addiction, and when a fellow photographer saw my physic, she wanted to use me for a project. It was during that shoot that I found my passion for being on the other side of the lens. It's a fun experience for me being able to use my knowledge of lighting and photography in order to better pose myself for Jenn to do her magic.
What is your ultimate dream job?
I don't have just one, I have many dream jobs I would like to pursue, it just so happens that modeling is the first one to take off.
What are you working on now?
At the moment, I'm just working on staying in shape, keeping myself healthy, and networking for modeling opportunities.
Where do you see yourself in five years?
In five years, I see myself traveling the world and working on my other business endeavors, which modeling will hopefully lead me to.
What are your favorite images from the book?
It's tough to pick a favorite, I am super impressed with every image. Jenn did a great job of expressing every angle and every style that my profile and personality fit into.
Is there one single image that stands out to you, says something about who you are and where you want to be as a person?
I really can't pick any one over the others, but I'd have to say, the photos which Jenn caught me off guard and snapped a quick photo of me with a grin, or me being goofy are the ones that really portray my personality and my value of life.
Who are some of the models and photographers that inspire you?
I look at artists who are multifaceted, the ones who are good at all different aspects of both art and life. I aspire to be well rounded as both a person and an artist.
What else inspires you?
My friends and family inspire me the most. They are always encouraging me to keep working hard and to never give up on your dreams.
Is there anything else you would like people to know about you?
Feel free to ask any questions and to follow me on twitter or Facebook.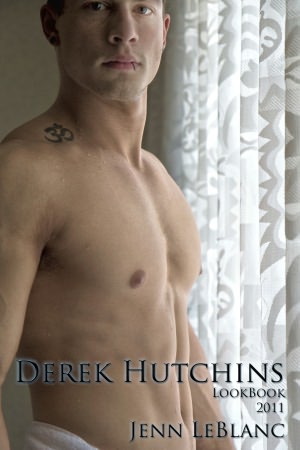 Thank you so much for joining me and if you read my book, or enjoyed Derek's book, PLEASE track me down somewhere and let me know what you think! I LOVE LOVE to hear from readers. =)
Places to purchase lookbook:
Francine Larrabee woke up on the wrong side of the century. She was fairly certain she went to sleep in her own comfy bed, but she doesn't quite seem to be there now. Only adding to her problems is that she has no voice, is constantly being glowered at by a large, stunning man who is obsessed with propriety, and she is apparently betrothed to another horrid little man, determined to ruin her, and any other girls that get in his way.
How does she find herself in the past, when she couldn't even find herself in her present? How does a self sufficient businesswoman survive in a time when women were still considered property for the whole of their lives and what is she going to do with this man who draws her to him so fiercely.
Because The Rake And The Recluse is a FULLY ILLUSTRATED novel, it is meant to be read as an eBook and is
ONLY $2.99!
Jenn LeBlanc has several constants in life that define her: Colorado, Canon, CJ, kids and curls.
Born and raised in a household of other people's children in this beautiful state —very nearly with a camera in hand— she never left. She talked about escaping; but that never happened. She started her own family, got used to the curls, went to college, built a CJ, and started a business, all with a camera in hand.
She always had another passion. Storytelling, born from daydreams and nightmares. Her fingers were not as quick as her mind, and no amount of practice got them there. Then her second daughter was born, and her inherent traits kept Jenn pinned to the spot, her only escape the keyboard. Spending her days in parenting chat rooms, she can still type fast with just one hand.
Jenn lives and thrives off chaos and the constant flow of the creative process. She is currently working on illustrations for another novel.
Places to find Jenn:
Places to find Derek:
**Giveaway**
Jenn and Derek will be giving out 2 copies of their eBook. So make sure to leave a comment and to fill out the Rafflecopter form for your chance to win.