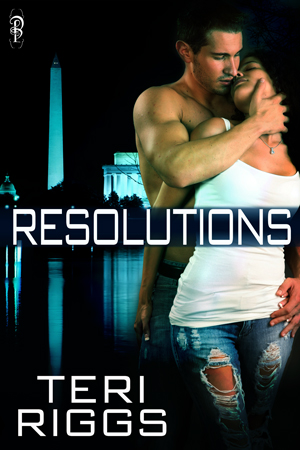 This is a first for the blog: an audiobook review! I'm a huge fan of audiobooks and listened to them all the time during graduate school. I've always favoured listening to audiobooks of books I had already read because I like seeing (hearing?) how someone else visualises the characters and setting and don't need to be fully focused on the audiobook to not miss a crucial development. But with so many books to enjoy and so little time, I've moved to listening instead of reading to put a dent in my epic TBR queue, even though I can read much faster than someone can speak. So when new-to-me author Teri Riggs's RESOLUTIONS (which kicks off the proposed Honour Guard series) audiobook came up for review, I decided to take it on.
RESOLUTIONS is a well-executed, fast-paced thrill-ride that starts off with a bang and doesn't let up until the final page. The story is not particularly original—a tough-as-nails DEA agent risking it all to retrieve intel on a sadistic Colombian drug lord who's progressed to making deals with Afghani terrorists—but the pacing and action are pitch-perfect and the author has a great voice for military/spec ops romantic suspense and can write some steamy sexytimes. Reader beware: there's a fair amount of violence and torture (as is a Colombian drug lord's wont) so it's not for the squeamish, but those not fazed by a sizeable body count will encounter a great story and solid narration by new-to-me narrator Lauren Sweet, whose previous experience seems to be primarily in erotic romance. Heroine Eve Taylor is a DEA legal-and-support-desk-jockey-turned-field-operative tasked with leading a team into notorious drug lord Miguel Mendoza's estate to secure enough intel on his operations to eliminate his cartel. The mission goes inexplicably FUBAR and Eve is captured and tortured by Mendoza. A failed attempt by a backup team sent in by the International DEA (IDEA) to retrieve the intel and rescue Eve sees the government contracting Resolutions, Inc.—a private black ops agency specializing in extractions—for the rescue. And who better to lead the mission than former Army Ranger and Delta Force Resolutions operative, Dillon "Mac" McKenna—Eve's ex-lover? The history between Mac and Eve is an intense one that ended two years prior when Eve was promoted to field agent and Mac gave her a misguided me-or-the-job ultimatum. She chose the job, he walked away, and now they're back together in a high-stakes mission with the same scorching chemistry and issues between them.
Mac is a frustrating character (as he is meant to be) with serious hang-ups. For the first two thirds of the story, he is annoyingly über-alpha and his overbearing "protect the little woman" (who happens to be a trained operative capable of holding her own) attitude pissed me off and made me want to strangle him repeatedly. He hasn't come to terms with the fact that his mother's death when he was a teenager—which happened whilst she was working as a nurse for the U.N. during armed conflict—was an unfortunate, unpreventable accident and not a function of her 'dangerous' job. His fear of history repeating itself with Eve drives the overbearing protectiveness that ruined their relationship in the past, and seeing him fall back into that same behaviour this time around had me throwing my hands up in the air in frustration. The man is a champion at putting his foot in it when it comes to Eve. But on the flip side, watching him go from seeing Eve as someone he needs to shield to an equal who has his back in the field and grow into the man he can be & that Eve needs was incredibly rewarding. I loved how he realised and admitted he was a wanker and completely wrong before (and again this mission)… the man can grovel like a champ!
For the most part, I loved and want to BE Eve: she's strong (read: kickass), smart, incredibly brave, and can hold her own in any situation (like being held hostage and tortured for a week without breaking). On top of that, she cares about others (her team, Mac), is incredibly dedicated to her job and the good it does (how many people would willingly go back into the lair of the drug lord who tortured them to ensure the intel makes it Stateside?), and has a snarky sense of humour—her banter with Mac and her team is hilarious. The only thing that irritated me about her is that she has a tendency to jump to conclusions about Mac and how he hasn't changed—and never will—without hearing him out when he starts out by putting his foot in it. This leads to a couple of instances where she does a one-eighty with Mac so quickly I still have whiplash, but the two of them work things out for a satisfying HEA.
The narration is well done and really brought the story to life. Though this was my first experience with Ms. Sweet's work, she does a great job with the voices: the various characters are distinguishable from each other by voice alone, and their thoughts are sufficiently differentiated from their speech so that it's always clear when one is speaking or thinking. Ms. Sweet does the male voices well: lower in register than the female voices without tipping over into caricatural, and sufficiently different for each male character to tell them apart. Eve is the only female character with significant dialogue so it's hard to evaluate Ms. Sweet's range of female voices, but she does well giving Eve a relaxed, fairly neutral voice only slightly higher in pitch than her normal narrator voice. With the bulk of the action set in Colombia, Mendoza and his cartel members are given Hispanic accents and occasionally use Spanish words. Like with the American characters, the various Colombian characters are distinguishable from each other, but the accents don't sound particularly Hispanic and some of the Spanish words are mispronounced slightly. (Being fluent in Spanish, I'm wont to nitpick on this—I always shake my head when an author includes some Spanish sentence that reads like something out of Google Translate.) Most audiobook narrators I have come across speak more slowly and neutrally than one would in normal conversation—particularly when using their 'reading' voice—to enunciate clearly, which results in the narration often having a slightly odd cadence and somewhat unusual pauses. It can be a bit jarring for new audiobook listeners, and it was fairly noticeable in Ms. Sweet's narration, particularly when reading text rather than dialogue.
With RESOLUTIONS, Ms. Riggs has crafted a great story that will keep you at the edge of your seat with its nonstop action and steamy sexytimes. The narration is well executed and well matched to the story, and really helps bring the danger and excitement to life. I'm looking forward to more Honour Guard books and to more audio collaborations between Ms. Riggs and Ms. Sweet to see how Ms. Sweet evolves as a narrator.
**Audiobook provided by Publisher**
Purchase:
|
Audiobook
|
Amazon
|
Kindle
|
B&N
|