"You have to go. I won't be able to control myself. I've wanted you so bad for so long and after I've been in the cage...I can't think straight." He gives a guttural groan and his fist clenches on my hip.

Primitive. Primal. His need speaks to me. I tighten my grip on his neck and rock up to kiss him. He takes over. His kiss is hard and demanding.

"Mine." His voice is raw, savage and for a moment I truly believe he may lose control.

He rules in the ring

Two years ago, Jake and Amanda were going hot and heavy. But when Jake wanted more, Amanda walked away. Jake immersed himself in mixed martial arts, living life on the edge. But that didn't dull the pain of Amanda's rejection-until a chance encounter throws them together.

A high-powered lawyer, Amanda was a no-strings-attached kind of girl. But two years after her breakup with Jake, she still hasn't found anyone who gets her heart pumping the way he did. And then he shows up in her boardroom, hot as sin and needing help...

But can he rule her heart?

Jake is darker, sexier, and impossible to resist. As their chemistry builds, Amanda's not sure if she can stay in control, or if she's finally willing to let him claim her body and soul.

Purchase: | Amazon | Kindle | B&N |
Ten minutes later, after a wave to Penny, I grab my cell phone and notebook, and head to the elevator bank through a labyrinth of gray felt partitions. As I step into the shiny steel and glass elevator, my phone buzzes. A smile curls my lips when I check the caller ID.
Drake. Or, to be more formal, Dr. Donald Drake. My long--term friend with benefits, and one of Oakland's preeminent heart surgeons, has kept me going through the worst of times. Tall and muscular with natural blond hair and brilliant blue eyes, I thought he was an Adonis when I first laid eyes on him. Still do.
"Well hello, stranger," I breathe into the phone. "How long has it been? Two…three months?" The doors close, and almost immediately, I am catapulted toward the client reception area at light speed. Time is money at Farnsworth & Tillman.
Drake chuckles. "Long time no sex."
"I was thinking that myself. Unfortunately, I've been hit with a new case, and it's going to eat into my sex time."
Drake makes a disapproving noise into the phone. "Sex is a basic human need, like food or sleep. As a medical professional, I can't in good conscience allow you to risk your health by depriving yourself. How about I pick you up tonight for a quick fix? I'm ring doctor at Redemption until about ten p.m., and then I can come straight to your office."
My chest tightens when he mentions Redemption. My best friend, Makayla, met the love of her life, Max, aka Torment, at what is now one of Oakland's up--and--coming MMA fight training gyms.
And I lost mine…Jake.
I try to wipe out the memories of Jake that are intimately associated with the fight club as the elevator hurtles me toward my destination, but once he's in my mind, he refuses to leave. I can't decide which memory is worse. The devastation on his face when he walked into my apartment after our breakup and saw Drake in my living room wearing only a towel, or the hurt and anger in his voice at Torment's near--fatal fight when he told me exactly what I'd thrown away.
"I would love to use you for sex, Drake. It's been far too long. But I'm not getting out of the office any month soon." My voice catches and I hesitate before bringing up the topic I have successfully avoided for the last few months. "Actually, I've been meaning to talk to you about our arrangement…"
The elevator jerks to a stop and I end the call, promising to meet Drake for coffee after he's done at Redemption as I step out into the gaping maw of the client reception area. Designed with the sole purpose of intimidation, the vast foyer with its twenty--foot ceilings and almost three--hundred--sixty--degree views gives a whole new meaning to the word fishbowl.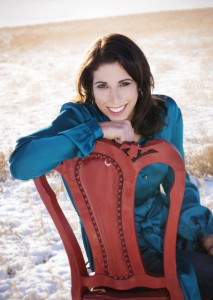 New York Times and USA Today Bestselling author,
Sarah Castille
, worked and traveled abroad before trading her briefcase and stilettos for a handful of magic beans and a home near the Canadian Rockies. She writes erotic contemporary romance and romantic suspense featuring blazingly hot alpha heroes and the women who tame them.
Find Sarah at:
Check out what's up for grabs.
Up For Grabs:
1 Redemption Gym Gift Basket
To Enter:
Please leave a comment or question for Sarah.
US shipping ONLY.
Please fill out the Rafflecopter form.
Special thanks to Sourcebooks for sponsoring this tour-wide giveaway.
a Rafflecopter giveaway