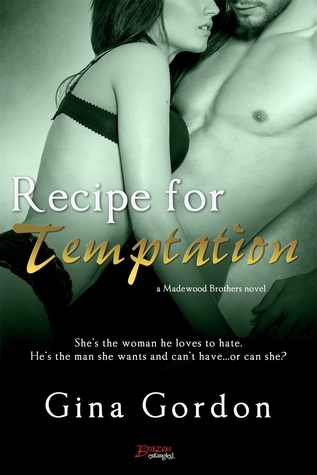 Recipe for Temptation is the fourth and final book in the Madewood Brothers series from Gina Gordon. Each book features a separate couple and can be read as a standalone. The blurb really drew me in here, as I was unfamiliar with Gina Gordon before this book. So I really went into this one blind and having no expectations. While there were things to like here, this one was a bit confusing to me and I ended up forcing myself to finish this one after it started out pretty decent if a bit confusing.
Penn Foster and Cole Murphy have worked together for the past three years, with Cole somewhat being her boss. (again the situation is sort of confusing...) Penn wants to be on the board of a charitable foundation in which Cole's family runs. Cole had a traumatic childhood and does his best to stay out of the spotlight and keep his life private. Though Cole and Penn both want each other, they both have their reasons for staying away. But when Penn goes on a family vacation and Cole shows up, things quickly escalate and they find themselves finally giving into temptation. But can their relationship last past the vacation, or are they destined to be a fling that ends in disaster?
I really didn't understand all the dynamics between these two and their relationship. At first it seems as though they don't like each other at all, yet they are attracted to one another. But then as you get into the story a bit it almost seems as though these two are close friends that very much admire one another, and just don't act on their feelings. It was all a bit confusing and contradictory here and I really didn't know what the deal was. I also didn't really get the whole situation as far as their jobs went either. Cole is a successful chef and his family has a charity that helps out children. It was clear that Penn worked with them on the the charity and had been around the family for the three years that was constantly stated, yet I didn't really see what her exact job was beyond the charity. It was all just a bit jumbled for me, and I found myself getting lost in what all was going on. The main focus here seemed to be on Penn and the dynamics with her family, which was a whole other mess. I loved the heat and chemistry between Penn and Cole, but I felt sort of detached when it came to the connection between them as I didn't really know what was going on. The physical side between them though was clear, and those scenes were honestly the best parts of this book hands down.
I have to say though that I absolutely hated Penn's entire family. These characters were beyond horrible, and I couldn't stand a single one of them. Every time it looked like one would have some redeeming quality, something would happen and I would hate them even more than before. The end was too little too late when it came to them, and I honestly felt like they weren't genuine at all at that point. It seemed too easy and unrealistic, and they came off as extremely fake. I also hated how Penn was so strong in her everyday life, yet with them she was this weak shell of herself that refused to be herself. Cole did his best to try and help her embrace that around them, but when she would even remotely try it would just wind up with her awful family being completely close-minded and judgmental. So while there were some really great moments here between Penn and Cole and they definitely had some steam between them, the rest of this story was just a mess for me. I did finish because I wanted to see what would happen, and because this one was thankfully pretty short. I think if it had been any longer though that I would probably have given in and quit. The only reason that I am giving this one three stars, is because when it was just Cole and Penn together things were good. It was the rest of the story that ruined what could have been a really good book for me. Looking at other reviews and ratings for this one, I seem to be in the minority though with plenty of people really enjoying this book. So if it sounds like something you might like, you should give it a shot. This very well could be an example of not every book is for every person, and that person was me in this case.
**ARC Provided by Publisher**