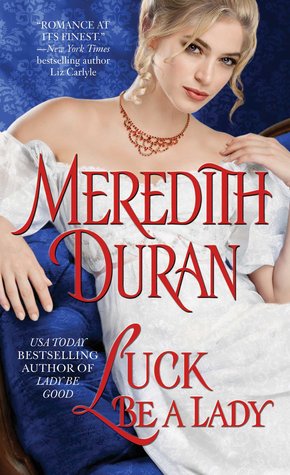 LUCK BE A LADY in this fourth sexy novel in the Rules for the Reckless series!




THE WALLFLOWER




They call her the "Ice Queen." Catherine Everleigh is London's loveliest heiress, but a bitter lesson in heartbreak has taught her to keep to herself. All she wants is her birthright—the auction house that was stolen from her. To win this war, she'll need a powerful ally. Who better than infamous and merciless crime lord Nicholas O'Shea? A marriage of convenience will no doubt serve them both.




THE CRIME LORD




Having conquered the city's underworld, Nick seeks a new challenge. Marrying Catherine will give him the appearance of legitimacy—and access to her world of the law-abiding elite. No one needs to know he's coveted Catherine for a year now—their arrangement is strictly business, free from the troubling weaknesses of love. Seduction, however, is a different matter—an enticing game he means to ensure she enjoys, whether she wishes to or not...






MEREDITH DURAN
is the author of eight previous novels, including The Duke of Shadows (winner of the Gather.com First Chapters Romance Writing Competition); Wicked Becomes You (included on the Woman's World List of Best Beach Reads for Summer 2010), and the USA TODAY bestseller Fool Me Twice. She blames Anne Boleyn for sparking her lifelong obsession with British history, and for convincing her that princely love is no prize if it doesn't come with a happily-ever-after. She enjoys collecting old etiquette manuals, guidebooks to nineteenth-century London, and travelogues by intrepid Victorian women.
Check out what's up for grabs.
Up For Grabs:
1

Signed copies of Fool Me Twice, Lady Be Good + Luck Be a Lady
To Enter:
US shipping ONLY.
Please fill out the Rafflecopter form.
Special thanks to Simon & Schuster for sponsoring this giveaway.
a Rafflecopter giveaway