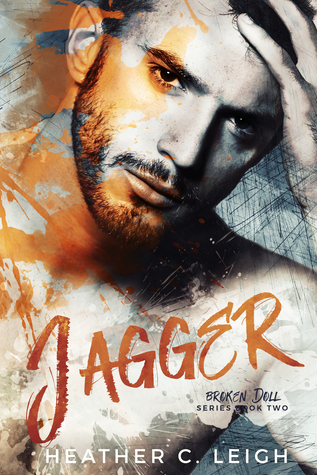 Jagger is the second book in the Broken Doll series by Heather C. Leigh. If you have not read Junkie yet, you will need to start there as Jagger continues the story from where the cliffhanger at the end of Junkie left off. Also, beware of spoilers below if you have not read Junkie.
Jagger has worked his way up to the top of the Austin drug world, and is now the Boss that they all fear crossing. But when he met Miri, things began to change and he started picturing a world where they weren't constantly in danger. When Jagger's enemies found out about Miri though, she was taken and now he will do whatever it takes to not only get her back but punish every single one of them that might have hurt her.
I really loved Jagger and Miri in Junkie, and that didn't change here. Their connection and chemistry was real and genuine, and you could tell just how much they had come to care for one another. It did feel as though there was a bit of a disconnect in this book though, because so much of this story was about them separated and what was happening around them. There were some really tough things that they had to go through here, and some readers will have some difficulty getting through this book at times. While I did still feel their connection, I questioned their choices at times, especially Miri's. There were a few times that she really frustrated me, but I still liked these two together.
My biggest issue here though was that while the story was good, things were predictable. I saw everything coming and had things figured out very early on. While that didn't stop me from enjoying the story overall, it did leave me feeling as though this story was just okay when it had so much promise. I really loved that Jagger wasn't your typical drug king here though, and I do think that these books are worth the read. But I wish that things had been a bit different because this story could have been great rather than just good.
**ARC Provided by TRSOR Promotions**