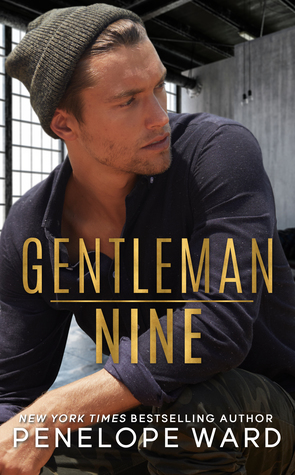 I couldn't wait to get my hands on Gentleman Nine, and Penelope Ward definitely didn't disappoint here! I am a huge fan of her books and this one was everything that I had hoped for. Penelope is one of a few authors that I don't even need to read a blurb for, because if it has her name on it I am going to read it and Gentleman Nine was one I loved from start to finish.
Channing and Amber knew each other while growing up, but the one thing that neither ever knew about was how the other felt anything for them beyond friendship. Channing and his best friend Rory had a deal that they wouldn't make a move on Amber because they both had feelings for her, but when Channing went off to school everything changed. So when Rory breaks up with Amber and breaks her heart and Channing finds himself needing a place to stay while he is temporarily in town for his job, he never expects to find her message to an escort on her computer. But Channing isn't about to let her get hurt again and finds himself responding to Amber. When she shows up to meet Gentleman Nine, her escort, she never expects to find Channing instead. Can he convince her to give him a shot instead of an escort though, and what does that mean for their future?
I absolutely loved these two. They had so much history and I loved how connected they were. Their friendship might have had times when they weren't as close as others, and yet they were always there for one another and had so much between them. I really felt for both of them and I was invested in them right away. I was so glad that they were able to finally learn the truth about their feelings and everything that had happened, when for so long they never knew just how much the other felt. They had a great connection and friendship, and their chemistry was so strong. I really felt the emotional ties and feelings between them, and it was clear that they were attracted to everything about the other one.
Overall, I have loved every book that Penelope Ward has written and Gentleman Nine was no exception. This story was captivating, with the characters being real and easy to relate to. I probably sound like a broken record when it comes to Penelope's books, but I have read and loved everything that she has written, and she is one of those authors that I always recommend to fans of contemporary romance. If you like genuine characters, emotional and heartfelt stories that are unexpected and captivating, you have to read Penelope Ward's books. I am already anxious for more from her and I cannot wait to see what she has in store for us next!
**ARC Provided by Inkslinger PR**