Paige Tyler
is a USA Today Bestselling Author of sexy, romantic fiction. She and her very own military hero (also known as her husband) live on the beautiful Florida coast with their adorable fur baby (also known as their dog). Paige graduated with a degree in education, but decided to pursue her passion and write books about hunky alpha males and the kickbutt heroines who fall in love with them.
Find Paige at:
If Hollywood came calling, who would you cast in the roles of your characters?
I love this kind of blog! It's so much fun coming up with actors I think would be great in the roles. And if Hollywood is listening—hint,hint!
Clayne Buchanan: Jason Momoa
Jason played Ronon in Stargate Atlantis and easily pulls off that barely restrained animal, bad-boy look that comes to mind any time I think about Clayne.
Like Clayne, Jason can be a charming, smiling hunk, and the next second, he can be growling and ready to rip somebody's head off.
And since Clayne is frequently without his shirt in HER LONE WOLF, it certainly doesn't hurt that Jason has a kicking bod! -)
Danica Beckett: Erica Cerra
If you never had a chance to see Erica Cerra in the role of Deputy Jo in the Sci-Fi show, Eureka, then you missed out. She could pull off the heroine to perfection—sexy, casual, down-to-earth, and kickbutt! The part of Danica Beckett, FBI agent and occasional DCO operative, was made for her. She's the only woman who could capture the unique mix of tender romance followed by some seriously crazy action sequences that Danica has in HER LONE WOLF.
She's also the only woman I could imagine getting in Jason Momoa's face as a complete equal. =)
The Hunter: Charlie Hunnam
The bad guy in
HER LONE WOLF
is a complex character. You'll just have to read the book to see what I mean because I'm not going to give you any spoilers, but I need an actor who can pull off coldly calculating serial killer one moment and an out-of-control animal the next. Sounds like Jax from Sons of Anarchy doesn't it?
*hugs*
Paige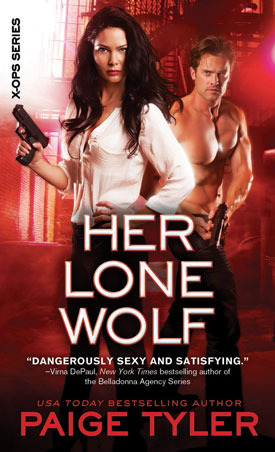 Leaving him was Impossible…

It took everything she had for FBI Special Agent Danica Beckett to walk away from the man she loved. But if she wants to save his life, she has to keep her distance. Now, with a killer on the loose and the stakes higher than ever before, the Department of Covert Ops is forcing these former lovers into an uneasy alliance…whether they like it or not.

Seeing her again is even worse

The last thing Clayne Buchanan wants is to be shackled to the woman who broke his heart. She gets under his skin in a way no one ever has and makes him want things he has no right to anymore. All he has to do is suffer through this case and he can be free of her for good. But when Clayne finds out why Danica left in the first place, everything he's tried to bury comes roaring back—and there's no way this wolf shifter is going to let her get away this time.

Purchase: | Amazon | Kindle | B&N | Kobo | iTunes |
Check out what's up for grabs.
Up For Grabs:
To Enter:
Please leave a comment or question for Paige.
US/CA shipping ONLY.
Please fill out the Rafflecopter form.
Special thanks to Sourcebooks for sponsoring this tour-wide giveaway.
a Rafflecopter giveaway