Award-winning author
Cynthia Eden
writes dark tales of paranormal romance and romantic suspense. She is a New York Times, USA Today, Digital Book World, and IndieReader best-seller. Cynthia is also a two-time finalist for the RITA® award (she was a finalist both in the romantic suspense category and in the paranormal romance category). Since she began writing full-time in 2005, Cynthia has written over fifty novels and novellas.
Cynthia lives along the Alabama Gulf Coast. She loves romance novels, horror movies, and chocolate. Her favorite hobbies including hiking in the mountains (searching for waterfalls) and spelunking.
You might be a romantic suspense fan if…
You tune in every single week to watch the latest episodes of Castle and if you don't see your show, there is no peace in your house.
You open a book and immediately start trying to guess who the villain is…and when you do guess correctly, there is no sweeter victory.
You think it is a totally normal situation to have danger and love mixed together—I mean, really, what better combination is there?
You can name all of the characters in Criminal Minds, but you are totally torn because you can't decide if the sexiest guy on the show is Derek or Reid. (The struggle is real.)
You've seen any or all of the following movies: THE SAINT, BASIC INSTINCT, SPEED, or THE THOMAS CROWN AFFAIR. (And you legitimately watched BASIC INSTINCT because you had to find out if Sharon Stone was the killer and not just for the sexy times—though, those were fun, too.)
You watch HANNIBAL and think…You know what this show needs? More romance. (Wait, is that just me?)
Of course, there are other signs. So many. Do you have a few that you'd like to share? Because I'd love to hear them!
Thanks so much for checking out my post. Have a fabulous day!
Best,
Cynthia Eden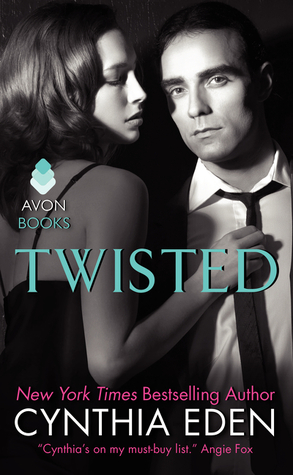 Dean Bannon comes to New Orleans for one reason only: to track down a missing sixteen-year-old girl. That's before he meets the drop-dead gorgeous con artist who makes him want to lose his legendary control.

With her past, Emma Castille doesn't claim to be psychic. She just notices things other people don't. Like the fear in a runaway's eyes—or the pain in an ex-FBI agent's heart. Her chemistry with Dean is blistering, but Emma follows her passion… not someone else's orders.

Then a madman breaks into Emma's home and leaves a twisted message: You're next. Now Dean refuses to let her out of his sight until he pries every last secret from her full, sexy lips. And suddenly Emma's aching to give him everything he wants.

Purchase: | Amazon | Kindle | B&N | iTunes |
"You're not psychic."
Were they back to that?
She put her hands in her lap. Emma didn't believe in making nervous gestures. She didn't believe in giving away anything at all with her body language.
"What you are …" Ah, now he did smile. Her father would have called it a shit-eating grin. The more PC term was probably a Cheshire cat smile. Whatever the name, that smile annoyed her. "What you are, Ms. Castille … is a criminal. A fraud."
Maybe she should grab her chest and dramatically gasp. She didn't. "Wonderful for you," Emma said. "You pulled up a background report one me." She let her eyes widen a bit. "It's amazing just what one can find if a person knows how to use a search engine."
A furrow appeared between his eyes.
"How about I say what … you are?" Emma asked him. "A washed-up FBI agent who snapped on the job. You held your control tight every single day, but the bad guys—they just didn't stop, did they? You hunted them, you stopped them, and more appeared. While you were fighting the system, they kept coming, and the bodies kept piling up onyour watch."
He shot right back to his feet. The folding chair slammed down behind him.
"You and your father bilked desperate people," he accused. "You told them you were psychic, that you could help find their missing children. And you—"
"We found them." Two girls who'd vanished. They'd found them. "We just didn't get to them in time." And she would not go back to that place.
She motioned toward Manuel. He knew the signal meant he could take over her booth. There was no way, no way,that she was going to stay there with that prick while he slammed the most painful moments from her past in Emma's face.
Manuel, pale, tattooed, with piercings in his lips and eyebrows, quickly claimed her spot.
Emma jumped to her feet. Muttered her thanks, and fled right past the guy she was starting to think of as Agent Jackass.
She pushed through the crowd. Wasn't there always a crowd in Jackson Square? And that was why she loved the place. It was so easy to vanish in a crowd. To be anyone.
The crowd closed around her.
To be no one at all.
She hurried around the back of the cathedral. She knew the streets so well. Her home was close by. Emma would get inside and forget Agent Jackass.
I'm being followed.
Emma stilled at the intersection. A horse-drawn carriage rolled by her. Voices called out.
And he touched her.
Emma didn't flinch. Didn't scream. She looked down at the hand on her shoulder. "When a woman runs away from you, that means you need to stay the hell away from her."
His hold tightened on her. "You and I aren't done."
She looked up at his face. Had she really thought the man was handsome? Annoying, that was all Dean Bannon was.
"I need to find that girl, and you're the only lead I have so far."
"Then you're not a very good investigator."
Check out what's up for grabs.
Up For Grabs:
1

Print copy of Twisted + Broken
To Enter:
Please fill out the Rafflecopter form.
Special thanks to Cynthia Eden + Tasty Book Tours for sponsoring this tour-wide giveaway.
a Rafflecopter giveaway