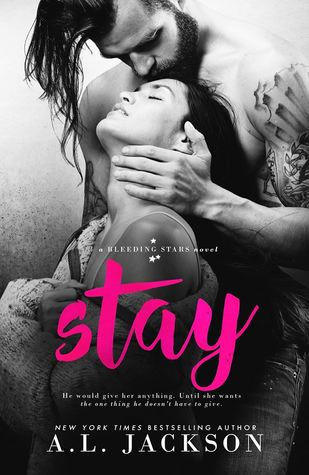 I am fairly late to the game when it comes to the Bleeding Stars series by A.L. Jackson. I recently became a fan of hers and since then I had only read Wait from this series. I really enjoyed it though, so I jumped at the chance to read Stay. I have to say though that after reading Stay, I am absolutely loving this series and I cannot wait to go back and read the previous books! A.L. Jackson has such a way with words, and I cannot recommend her books enough!
Ash has always embraced the rockstar lifestyle, especially now that his bandmates have started settling down. But when that lifestyle finally caught up to him, he never expected to have someone like Willow come to his rescue. He knows he needs to show her his gratitude, but he finds himself drawn to her and soon things become so much more. But with Willow being as broken as he is deep down, will these two heal each other or destroy everything that they have started to build together?
I couldn't wait to get to know Ash better after Wait, and I loved him even more than I thought I would! I loved getting to see his layers as his facade was stripped away! There was so much more beneath the surface than he showed. Willow was so good for him. Each of these two had so much depth to them, and I felt so emotionally invested in their story. Willow had been through so much in her life, that I really loved seeing her with Ash. Their chemistry was so strong and they were sexy together, yet it was so much more than that. I knew that these two absolutely belonged together, and I knew that their journey wouldn't be easy but that in the end it would be worth it.
A.L. Jackson definitely delivered here, and I couldn't put Stay down. I loved it and it was such an emotional read. If you are new to Jackson's books, they are beautifully written and will draw you in right away. Stay was everything I have come to love and expect from her stories, and I recommend it if you are looking for something sexy, emotional, and truly heartfelt. This book is one of my favorites from Jackson so far, and I can't wait to read more from her.
**ARC Provided by Author**