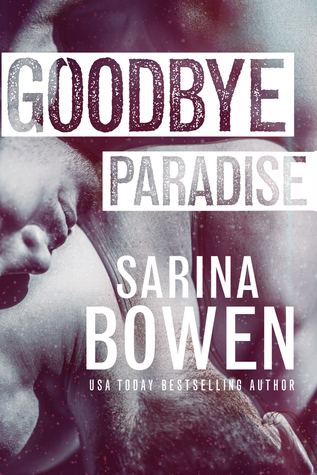 I was so excited when I found out that Sarina Bowen had a new M/M novel/series coming out. (HA! See what I did there!?!) Goodbye Paradise is the first book of the series and is a standalone story. This book/series was previously released under a different title (In Front of God & Everyone) and pen name, and I am so glad that Sarina decided to re-release under this name because otherwise I might never have found these books! Like everything I have read from Sarina previously, I loved this book and the idea behind the series is one that absolutely fascinates me.
Best friends Caleb and Josh grew up in Paradise. A small but strict religious community that tightly controls every aspect of their lives. They are not allowed to watch TV and most of the members of the Compound aren't allowed to leave. Though they each work around the property to help contribute, many of them end up disappearing, never to be seen or heard from again. They definitely aren't allowed to have the kind of feelings Josh and Caleb have for one another. But when Josh is cast out and finds himself homeless in a world he has no idea how to navigate, Caleb will have to rush to find him before anything can happen to him. Can they finally find a place together where they can admit their true feelings for one another and see where the future takes them?
I absolutely adored these two. After the way they grew up and were raised, it was so great to see them finally be able to be themselves and share that with each other. They had such a strong connection that had always been there as friends, but that was so much more powerful and intense as they were able to open up about their true feelings for one another. Josh had always been picked on in the Compound and wasn't as good at everything that the others were, but Caleb had always looked out for him and done his best to take care of him. I loved how sweet they each were and their genuine love and affection for not only each other but those that they cared about. These two were so perfect for one another, and I honestly cannot imagine either of them without the other!
I will say that there was one big thing that happened that had me not so happy with Caleb. Just like it did to Josh, it broke me! I understand what he was trying to do, but I hated that he didn't stop and think about Josh in all of it. After everything that they had been through, it really hurt to see him have so little regard for Josh and their relationship. Luckily it didn't take long for him to realize just how badly he had messed up, but while I could forgive just like Josh did I wasn't able to forget it. That is the only reason that this book wasn't a five star read for me. I just couldn't believe that he could even think of doing something like that after all that had happened and that he knew about Josh. Overall though, this was yet another fantastic book from Sarina Bowen and I am looking forward to reading the next book in this series!
**ARC Provided by Bocci PR**