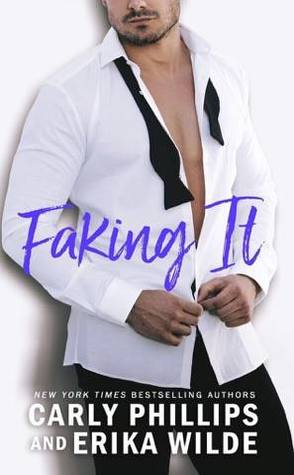 Faking It is the second book in the Book Boyfriend series by Carly Phillips and Erika Wilde. Each book is a standalone story and you do not need to read them in order to enjoy. I have yet to be disappointed by these two authors, and Faking It was just as good as I had been hoping for. I genuinely enjoyed reading this one from start to finish and I didn't want to put this book down once I had started.
As a matchmaker for a living Hailey Ellison knows that she needs to project a certain image to be taken seriously by clients, which is why she wears an engagement ring while not actually being with anyone. Max Sterling is her real estate agent who has been drawn to her since they met, though he knows he needs to stay away believing that she is someone else's. But when he finds out that she is not actually engaged and needs his help in convincing a client that she is, he jumps at the opportunity to pretend that she is his fiance. Max has been trying to get rid of a persistent woman that won't take no for an answer, so he views it as the perfect chance for both of them to help each other out. He also knows that he won't be satisfied until they explore the connection and attraction between them that has been there from the start. But what happens when their fake relationship suddenly starts to feel very real?
I really loved Max and Hailey! These two were perfect for one another and I loved that they had such a strong connection. Hailey had some insecurities that ran deep, and Max was exactly what she needed. Showing her that he found her attractive and that what they had was real helped her to see that she was beautiful just as she was. Max was sweet and sexy, and I loved that while he had been a bachelor for so long, it was just because he had been waiting for Hailey. He was all in with her and it was so refreshing to see him really embrace that. Hailey was sweet and caring and super easy to like. She was the kind of girl that you would love to be friends with in real life. She was just a good person that you couldn't help but root for! The chemistry between these two was so intense and it just made it that much more powerful because of the connection they shared.
Overall, this one was so much fun to read and I just loved the characters. Sweet and sexy, this book had it all. I didn't want to put it down once I had started, and it was everything I had been hoping for and more. Carly Phillips and Erika Wilde make a fantastic writing team, and this book is one that I highly recommend. I can't wait to read more from these two, and I know that Faking It is one I will reread again in the future.
**ARC Provided by RockStarLit PR**