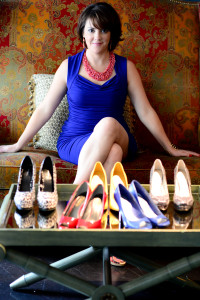 Avery Flynn
loves a hockey-addicted husband, has three slightly wild children and is desperately wishing someone would invent the coffee IV drip. Find out more about her on her website (www.averyflynn.com), Twitter (@AveryFlynn) or Facebook (facebook.com/AveryFlynnAuthor). She posts all sorts of fashion, reading and hero inspiration pictures on Pinterest (pinterest.com.AveryFlynnBooks).
Places to find Avery:
OK. I know,
Gone With the Wind
is not technically a romance but frankly dear readers, I don't give a damn.
Rhett and Scarlett are my ultimate romance couple. From the moment the horribly spoiled and completely bratty Scarlett sneaks into the Wilkes' library and finds Rhett lounging on the couch, the die is cast. He is the most annoying man she has ever met. And Scarlett? She is a woman, as Rhett says, who needs to be kissed often and by someone who knows how.
Individually, they are awful people. Scarlett is the ultimate pain in the ass mean girl. Rhett is a cynical rake whose only use for people is how he can use them. But together? They fit. They make each other better. Together they grow as people. They teach each other the meaning of love.
Their love story is epic. It withstands the wimpy Ashley Wilkes, the war, poverty, starvation, the Yankees, Atlanta burning, their marriage, the death of their daughter and other spouses.
And then this happens.
Oh Ashley Wilkes, what Scarlett ever saw in you I cannot understand. You, sir, are no Rhett Butler. That is exactly what Scarlett realizes. At the end of the story, Rhett may disappear into the Atlanta fog, but he's not gone. There's just no way their story ends like this—even if the book does. If Scarlett has to lie, steal, cheat, or kill, as God is her witness, she'll never be without Rhett again. Because …
Widely considered The Great American Novel, and often remembered for its epic film version, Gone With the Wind explores the depth of human passions with an intensity as bold as its setting in the red hills of Georgia. A superb piece of storytelling, it vividly depicts the drama of the Civil War and Reconstruction.

This is the tale of Scarlett O'Hara, the spoiled, manipulative daughter of a wealthy plantation owner, who arrives at young womanhood just in time to see the Civil War forever change her way of life. A sweeping story of tangled passion and courage, in the pages of Gone With the Wind, Margaret Mitchell brings to life the unforgettable characters that have captured readers for over seventy years.

Purchase: | Amazon | Kindle | B&N |
Sylvie Bissette may be one of Harbor City's youngest glitterati, but only her best friends know her most closely guarded secret. She's the woman behind The High-Heeled Wonder, a must-read blog for fashionistas everywhere. Gossip, fashion advice, exposés. Too bad some people can't take a little criticism. When an internet troll discovers her secret identity and escalates from stalking her to threatening her life, Sylvie turns to security expert Tony Falcon for help. The investigator from the other side of the tracks is the olive oil to her Evian water and aggravates her to no end, but it's not just her temper he's inciting...

Tony Falcon wouldn't know a kitten heel from a tabby cat, but since most of the bad guys he tracks down aren't wearing stilettos, it's never been a problem...until he meets Sylvie. When a murder investigation leads him to the same place Sylvie works, he realizes the feisty fashionista may be his best chance at catching the criminals who killed his best friend. It all leads back to the cut-throat fashion world. But solving that case means going after the people Sylvie cares about, and soon his attraction for her—and the danger she's in—has him wondering if solving the case is worth hurting the woman he can't stop fantasizing about…

When Sylvie's almost run over in broad daylight, Tony goes undercover as her boyfriend to infiltrate the close-knit fashion community. And when they discover Sylvie's stalker may be linked to Tony's own investigation, what started as a simple plan to find his friend's killers turns into a hot bed of secrets and revelations. In a world full of overblown egos and dog-eat-dog ambition, Tony and Sylvie must work together to find her revenge-obsessed stalker before Sylvie ends up with a literal knife in the back.

Purchase: | Amazon | Barnes & Noble | Kobo |
Check out what's up for grabs.
Up For Grabs:
1

Kindle copies of Gone With the Wind + High-Heeled Wonder
To Enter:
Please leave a comment or question for Avery.
Please fill out the Rafflecopter form to enter.
**Don't forget to enter the grand prize giveaway!
Special thanks to Avery Flynn for sponsoring this giveaway.
a Rafflecopter giveaway