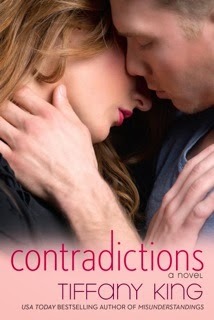 Contradictions is the third book in the Woodfalls Girls series by Tiffany King. After reading and loving Misunderstandings (Book #2 in the series) I couldn't wait to read more from Tiffany King. I have to say though that this was not the book for me. I had a very tough time connecting with the characters in this book, and it didn't hold my interest like Misunderstandings did. I found myself wanting to either put the book down or skim through it. While I liked Trent, I didn't really care for Tressa.
Tressa Oliver is in her third year of college, and spends her time out partying with her friends rather than studying. Her love life isn't going anywhere, and each new guys seems to be worse than the last. When she gets put on academic probation, she knows that some changes need to be made. That along with a tragic accident wake Tressa up and soon she is finally trying to focus on making something of herself. When Trent Lawson agrees to help tutor Tressa, she views him as the same nerd he was in high school. She has no idea why her friends have always thought that she should give him a chance. He has had a crush on her for forever, but while she is the type to party, he is everything she is not. But when Trent and Tressa begin to spend more time together, she quickly realizes that there is more to him than just the computer geek. But can these two opposites find a way to make things work?
I really liked Trent. He was a bit shy and quiet, but I loved that he was so much more beneath the surface. He was sweet and kind, and just a genuinely good guy. He gave Tressa far more credit that she deserved, and I really felt like he put up with far too much from her. Despite all of her mean or snappy comments to him, he never gave up on her. I wanted her to treat him better or for him to put her in her place. Tressa was impossible for me to connect to. I didn't understand her lack of motivation for bettering herself, and I didn't get why she treated others the way she did. She just seemed to be pretty bitchy and I didn't understand why she had as many friends as she did. I did enjoy seeing her wake up though and start to make some changes. Unfortunately I felt like it was a bit too little too late, and I honestly didn't feel as though she deserved Trent. I wish that I had felt more of a connection between them or chemistry, but there was just something missing and I never felt that they fit one another. There just wasn't anything that really clicked between them for me.
Beyond my issues with Tressa, I felt as though this story was very slow. It took so long for me to get into this one at all, and there really wasn't anything happening at all for about the first 25% of the book. Before that it was all Tressa and her friends going to parties and I was waiting for more. I also felt like there were a ton of extra characters in this story that weren't needed. It got hard to keep things straight at times, and I felt like a lot of them were pointless. I wondered why they were even brought up. I got to the point that with each new character I couldn't even keep their names straight. Overall, I think that this one just wasn't for me. As much as I loved the last book and liked Trent, the rest of this one didn't work for me. I do think that Trent was amazing though, and I really wish that I would have been able to feel as though Tressa deserved him. I will give Tiffany King another shot in the future though, because I really did love Trent and her previous book Misunderstandings.
**ARC Provided by Penguin Group Berkley**
Purchase:
|
Amazon
|
Kindle
|
B&N
|
Book Depository
|