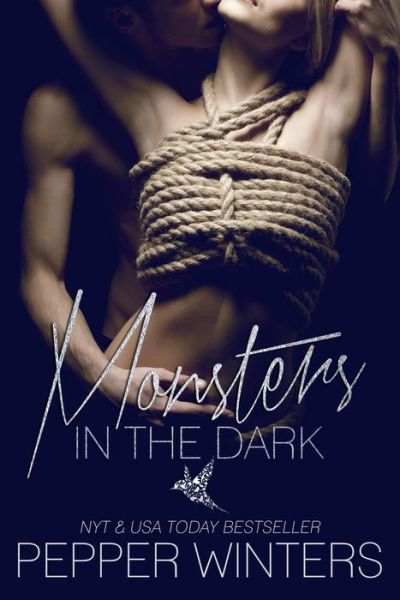 After reading the first three books in the Debt Inheritance Series by Pepper Winters, I couldn't wait to read more by her. So I jumped at the chance to read her Monsters in the Dark Series. I had heard so many good things about this series, but it was honestly one that I just hadn't gotten around to reading yet. I cannot believe that it took me this long! Seriously this series sucked me right in from the start, and I cannot get enough of Tess and Q!
Tears of Tess
Tess has noticed that her sex life has been a bit stale with her boyfriend Brax, so when he surprises her with a vacation to Cancun she thinks it is the perfect time to spice things up a bit. She never expects to be kidnapped and taken to France to the estate of Q Mercer. At first Tess believes that Q will be just as bad as those that took her, but she quickly realizes that things are different with him. Though she knows it's wrong, she can't help but be drawn to him. Tess finds herself changing the more time that she spends in Q's home, and before long she starts to see that Q is not at all like she thought he was. Will Brax find her and take her home, or will Tess be forever changed before she has a chance to return to her home?
Q and Tess were such complicated characters, and I found myself loving them as soon as they were introduced. Tess wanted more from her life than what she was getting with Brax. While he was sweet and treated her well, she was bored and found herself with desires that he was unable to fulfill. I loved how strong Tess was and I really enjoyed seeing her fight back. She wasn't going to just accept her fate and let others do what they pleased, and I was glad that she was so feisty. That being said, she was also capable of letting go and relinquishing control when she wanted to. Her connection with Q was instant, and these two were the perfect match for one another. They completed each other in a way that no one else did, and I found it so interesting how they just understood one another. Q was such a mystery at first and though he started off looking as bad as they come, I really enjoyed seeing how he really was beneath the facade. With each new layer peeled back we got to see him in a whole new light, and it was easy to see why Tess would be so drawn to him. These two had insane chemistry and were so hot together. They were exactly what they needed and wanted when it came to their physical desires, and I loved the passion between them.
I could not put this book down, and a lot of that was because of the connection that was forming between Q and Tess. Though these two came together in such horrible circumstances, it was clear that they were meant to find one another. I loved how Pepper Winters showed the reader that sometimes the road is a difficult one, but that we will somehow get to where we need to be. Beyond the darkness there is light, and sometimes we find ourselves in places that we never expected. Pepper Winters is a fantastic writer, and I love that I can never tell what will happen next. She masterfully weaves her stories together in a way that keeps the reader on the edge of their seat. Her stories are raw and gritty, and are not for everyone. But I love that they are so unique and different, and I am a huge fan of hers. I cannot wait to get more of Q and Tess, and see what happens next for these two.
Quintessentially Q
Quintessentially Q is the second book in the Monsters in the Dark series, and this book picks up right after the end of Tears of Tess so make sure you start there first. Tess and Q have found that they belong to each other. The complete each other in ways they never knew before finding one another. Though their path to each other wasn't easy, they knew that they were meant to be together. But now that they have embraced their desires and each other, they must learn how to deal with everything that means. Though their relationship is unconventional, it works for them. But sometimes finding each other is the easy part, it is working through the obstacles that can make or break a relationship.
Tess and Q are some of my absolute favorite characters, but this book was so hard at times for me. The way these two came together should have been the worst thing that they would ever go through, and yet they had even more thrown their way in this book. I loved Q and Tess together, and though most wouldn't agree with how they were with one another it worked for them. Tess and Q couldn't be defined by most people's standards, and I loved that they embraced their desires for one another and accepted each other as is. They both wanted to own one another, and it was clear that they did. We really got to see such different sides of them in this book with everything that they went through, and at times it really broke my heart. I was glad that we got to see a whole new depth to their relationship though, and it was clear that things had progressed so far beyond just the physical for these two. They still had the passion and chemistry, but they also had this undeniable connection that is so rare and hard to find.
This book was again proof of Pepper Winter's fabulous writing. I couldn't put it down, and though it was hard to get through I devoured it. I had so many emotions while reading this book, and I have to admit I was kind of all over the place. This book really messed with my mind. It was dark and raw, and I honestly didn't know what would happen from one chapter to the next. I hoped that everything would come out for the best with Q and Tess, but there were times that I honestly worried for them and the relationship that they had found with one another. Vengeance is never easy, and the affects it had on these two was profound. I honestly cannot wait to see what happens next in this series though and I really liked where we left off with these two. I am curious to see what else Pepper has in store for these characters. This series is quickly becoming a favorite of mine, just as Pepper Winters has become a new favorite author for me as well.
Twisted Together
Twisted Together is the third book in this series, and it picks up after Tess is back home with Q again. Though she is back home and with Q, she is still not the same as she was. Tess no longer craves the pain that her and Q have always found pleasure in, and though she loves Q she doesn't know how to get back to where she was before. Q would do anything for Tess, but he no longer knows how to deal with her nightmares. As Tess tries to pretend that she is fine, she continues to struggle with the aftermath of everything that has happened. Just when it appears that Q is able to break through to her, they are once again thrown into a situation that they hoped to never finds themselves in. But can they face their demons once again and come out on top, or will this be the one that breaks them for good?
Q and Tess have gone through so much. They have both suffered and in each other they found the means to survive. But this book again finds them starting over and having to face more horrors that they shouldn't have to experience again. The one thing that has never changed throughout this series is the intense connection that Q and Tess share. They have been drawn to each other from the very start, and the bond they share has only grown stronger. But Q and Tess weren't connecting physically as they had before in this book, and that had a huge effect on their relationship. I wanted them to figure things out so badly in this book, as it was clear that their love for one another could never be broken. I knew that these two had to find a way to get everything back and move forward with their lives because they were meant to be together.
While I did enjoy getting more of Q and Tess, I have to say that this book wasn't what I had been hoping for. It was extremely long, and I felt a lot of it was unnecessary. There were huge portions of the story that seemed to rehash things from the past and I felt like it had a tendency to drag. I found myself wanting to skim parts of their story for the first time in this series, and it made me sad because I absolutely love these characters. I think I just got lost in so many details, and the constant struggles that Tess was going through. I felt like we had already dealt with so many of them, and I thought that she was better after the last book. It seemed like we were back to square one and I didn't want to read the same thing I had before. I also felt like we were constantly getting a rehashing of the past with her constantly falling back inside her head and what she had experienced before. She kept remembering the same things from her captors, and I didn't need to hear it over and over to remember what had happened. Though I did enjoy seeing how things turned out for them, I honestly felt like that could have been done with far less words and a shorter book. I know there is a novella coming as well, and while I want to read it for more Tess and Q I am worried that I will have the same problems as I did here. I am really hoping that it will be something new for them and not be the same thing repeated again with a few changes. While I did struggle to get through this book, I still think that this series is worth reading. Tess and Q's story is one that I have been captivated with from the start, and I have loved how different and unique it is. These two are so different from any other characters I have ever read, and their connection is unlike any I have seen before.
Overall
Overall, I will definitely be reading more from Pepper Winters in the future. I highly recommend her if you are looking for something different. Her stories are on the dark side, and are always raw and intense. Though some will have some issues with the things that happen, I also love that they are unpredictable and deal with things that are not commonly written about in romance.
**Review Copy Provided by As the Pages Turn**
Purchase:
|
Amazon
|
Kindle
|
B&N
|
Book Depository
|
iTunes
|