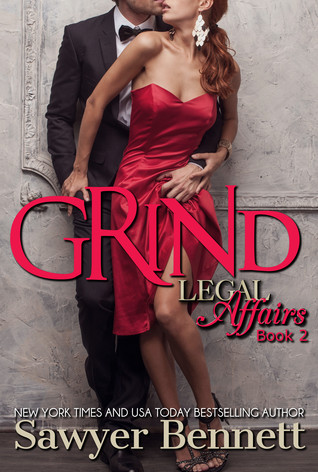 Grind is the second part of Cal and Macy's story by Sawyer Bennett, and this one picks up right after where we left off in Clash. Make sure you start there first if you haven't already read that one. You do not need to have read Matt and Mac's story in the Legal Affairs series, though I am sure that it would give a bit more insight into these characters. I haven't had any problems not having read those yet though, but I will definitely be reading them in the future.
Cal and Macy never got along, despite having a mutual best friend. But after a passionate hook-up, the two began to want more from each other. Macy doesn't do relationships, though she is willing to be monogamous with Cal as long as things are strictly physical. But Cal is looking for more, and he wants to give things a shot with Macy. There is much to Macy that Cal doesn't know though, and she is determined to keep it that way. But can Cal grind Macy down to the point that she is willing to give them a shot and start to reveal some of her secrets to him?
I liked Macy much better in this installment than I did in the first. For some reason with her diary entries in Clash, she came off a bit crazy to me. She was much better this time around though, and we got to see a more vulnerable side to her. She clearly has a lot of pain in her past with some of her thoughts and feelings, and I am really wanting to know more. What happened to make her the way she is? Cal was a bit all over the place in this installment, which was a shame since I really loved him in the first book. I had a tough time figuring out what he wanted when he seemed to kind of flip flop the whole way through. I can tell that he likes being with Macy physically, but then at times he also seems to want more in their relationship. However then he would also say he wasn't in love with her and that she wasn't the type of woman that he would ever love because of how she is. So I am just a little confused with these two and where things are headed. The one thing that is clear though, is that these two are super hot together and they connect physically in a way that they don't with others. Though they have pushed each other a bit, they seem to really understand each other when it comes to their desires.
I have to say that I am slightly confused with this serial. I really thought that these two would have had a bit more banter between them considering how much they couldn't stand one another at first. They started off with every encounter between them ending with them verbally sparring, and now they don't at all. It just seems a bit odd to me that there wasn't any kind of transition when it came to that. All of a sudden they are just friends who sleep together and no longer seem to have that spark or tension that they did before when it comes to them outside the bedroom. I am curious to see what happens next, especially after where we left off here. But I have to say that overall this serial has been kind of disappointing and isn't what I had expected.
**ARC Provided by Author**