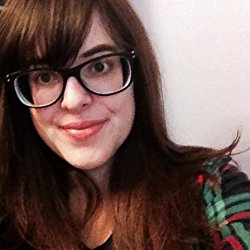 USA Today Bestselling Author
Erica Monroe
writes dark, suspenseful historical romance with an emphasis on social issues and women's rights. She was a finalist in the published historical category for the prestigious Daphne du Maurier Award for Excellence in Romantic Suspense, and her books have been recommended reads at Fresh Fiction, Smexy Books, SBTB, and All About Romance. When not writing, she is a chronic TV watcher, sci-fi junkie, and comic book fanatic. She lives in the suburbs of North Carolina with her husband, two dogs, and a cat. Visit Erica online at
ericamonroe.com
and sign up for her new release newsletter at:
bit.ly/mlem4
.
Thank you so much for having me for the RFTC Historical Christmas event! In this scene, Abigail and Michael Strickland are celebrating their first Christmas as a married couple, with a help of the other couples in the Rookery Rogues series. The fourth book in this series,
Stealing the Rogue's Heart
, will be released on January 24th and is available for the limited time pre-order sale price of $0.99.
A Rookery Rogues Christmas
December 25, 1832
Abigail Strickland tied the last strand of garland snug against the banister and stood back to admire her work. Aye, the evergreen she'd purchased from one of the flower stands in the Truman Market on Brick Lane in Spitalfields looked just as cheery as she'd hoped it would, the dark green needles contrasting perfectly with the burnished oak of the staircase.
"I should work more often, if this is what comes of you going to the market with Poppy." Michael came up behind her, slinging his arm around her waist and bringing her close to him.
"Nonsense." She snuggled into his warmth, leaning her head back against his broad chest. The buttons of his Metropolitan Police uniform pulled at her hair, loosening a golden curl.
He spun her around so that she faced him, tucking the curl back behind her ear. "Every time, this happens."
"You'd think I'd remember." She arched a brow at him. "Especially since between the two of us, I have the better memory."
"Ah, that's a lie, and you know it," he countered, leaning in to steal a quick kiss. When they parted, he grinned at her as he walked toward the windows. "For instance, I remembered that everyone was coming over for Christmas, and I managed to come home in time."
She followed him to the window, pulling back the curtains. "Will wonders never cease." A sneaky smile stretched across her lips as she felt his hand slide back behind her, giving her a bottom a quick pinch.
"That's for doubting me, wife." His breath was hot against her ear, as they both stared out the window, waiting for their friends to arrive for the party.
Wife. They'd been married a month prior, in a cozy little ceremony where she'd worn a dress altered by her best friend, Poppy Knight.
Abigail still could not believe it. Their courtship had been anything but conventional. She'd agreed to spend two weeks with him, to give him her virginity, in exchange for him settling her father's gambling debts. She'd thought him the worst sort of beast, as much as she'd believed she too was unworthy of love.
He took her hand, rubbing his thumb across her knuckles. She could not feel the touch—could not feel anything against her mangled hand, a permanent reminder of the long night of torture she'd survived nearly a year ago. Yet she did not shy away from Michael's touch as she would have when they'd first met, or wish for the old elbow-length gloves she'd used to wear to hide the disfigurement.
She did not need to hide. Not anymore.
No, somehow she'd found a man who loved her absolutely, scars and all. And this Christmas, Abigail had one more thing to be grateful for. She laid her hand across her stomach, her smile widening.
"Are you tired? Shall I get you anything?" Michael let go of her hand to survey her face, watching for any signs of fatigue. "The doctor said—"
"The doctor said I am a month along, and he sees no cause for concern," Abigail reminded him with a laugh. She did not mind his concern; in fact, she delighted in how special he always made her feel. Living in the Whitechapel rookery, she'd grown up fast, working from childhood onward so that her younger sister would not starve. Their mother had died when Bess was a babe, and their father…well, he'd been a drunkard, and a gambler, for as long as Abigail could remember.
Only in the past two months—since she'd made that bargain with Michael and discovered love greater than she could ever have imagined—had her father shown any sign of progress toward recovery from his vices. Still, Abigail wasn't going to take any chance he'd revert back to his old ways. When Bess wasn't away at school, she lived in the Strickland's townhouse. She'd return in a few days for the holidays, and Abigail couldn't wait to see her again.
"They're here!" Michael exclaimed, taking off toward the door.
She chuckled at his boyish enthusiasm. He flung the door open, ushering the small party in from the snow. As he shut the door behind them, Abigail was engulfed in a hug from both sides, as Poppy and her sister-in-law, Kate O'Reilly, embraced her.
"Gentle, gentle," Michael cautioned, watching them with the same worried look he'd probably wear for the next eight months.
This made Thaddeus Knight smile wide. "I never thought I'd see the day when infamous rake Michael Strickland became an anxious papa-to-be. Marriage looks good on you, Strickland."
"Thanks, Thaddy." Michael clapped his friend on the back. "But don't think complimenting will make me go easy on you the next time we spar."
"I wouldn't dream of it, Inspector." Thaddeus made a mock-salute, his dark eyes twinkling with merriment.
"How's the private investigator business going, Thaddeus?" Daniel O'Reilly asked, brushing off the snow from the shoulders of his coat. Thaddeus had left the Met and chosen to open his own business so that he could help more people in the rookeries.
"Quite well."
"Too well," Poppy interjected, stooping to undo the buttons on her two-year-old daughter's heavy coat. She ran her hand through Moira's hair, smoothing out the little girl's rebellious red locks. "We'd like him home far more than he is."
"Such is the perils of marrying a man of the law," Kate teased. "Much better to stick with a convict."
Daniel winked. "Falsely accused convict, mind you."
"Terribly sorry about that," Michael said, with a rueful smile. His father had been the Night Watchman who had wrongly accused Daniel of murdering a dockworker. "My father was not the brightest of chaps."
"Not your fault." Daniel shrugged. "Besides, it brought me back to Kate, and that makes every second worth it."
"And it brought me to Poppy," Thaddeus added, grabbing his wife's hand in his own. "And my lovely daughter."
"Sometimes pain leads to pleasure." Abigail laid her head against Michael's shoulder, relishing the steady strength of him. He'd been the best of surprises. Her equal partner in every aspect, who both challenged and encouraged her.
"Indeed, that it can." Poppy hugged Moira to her, sharing a smile with her husband too.
"Smithers will serve supper soon in the dining room." Michael waved down the hall. "You're all welcome to take a seat."
The group headed toward the dining room. Abigail started to go after them, but Michael caught her arm, holding her back. "One last thing needed to make this a perfect Christmas, Mrs. Strickland."
She peered up at him, wondering what mischief he was up to. "Yes?"
He pointed to the five wooden hoops in the shape of a ball, covered with holly, with the red apple and candle inside. A large bunch of mistletoe hung from the bottom. "I believe you know what to do when you're near a kissing bough."
She most certainly did. Abigail stood on her tiptoes, placing a kiss upon her husband's lips. As they held each other, and the kiss deepened, she thought it was going to be a very merry holiday indeed.
Scoundrels, thieves and rebels inhabit the rookeries--where the women are fierce and the men are dangerous. Are you willing to take the risk?




ONCE, SHE WAS BEAUTIFUL...




Abigail Vautille dreamed of escaping the Whitechapel rookery and starting a new life, until one tragic night left her scarred and penniless. To save her family from debtor's prison, she strikes a deal with the rogue who owns her father's gambling vowels-if he excuses the debt, for two weeks, she'll give him her body, but not her heart.




ONCE, HE WAS CHARMING...




Inspector Michael Strickland of the Metropolitan Police has always had a way with women. Success comes easily to him, and he glides through life on his good looks and family name. But Abigail lights a passion within him he never knew existed. He sees the beauty within her, not the beast she believes herself to be.




TOGETHER, THEIR LOVE IS BEYOND A FAIRY TALE.




After a dangerous figure from Abigail's past resurfaces vowing vengeance, things take a sinister turn. But Michael will stop at nothing to keep the woman he loves safe. When the stakes are high and the scars are more than skin deep, passion might be the key to a happily ever after.






Up For Grabs:
1

eBook copy of Beauty and the Rake
To Enter:
Please fill out the Rafflecopter for entry.
**Don't forget to enter the grand prize giveaway!
Special thanks to Erica Monroe for sponsoring this giveaway.
a Rafflecopter giveaway