Samantha Young
is the
New York Times
,
USA Today
and Wall Street Journal bestselling author of adult contemporary romances, including the On Dublin Street series and Hero, as well as the New Adult duology Into the Deep and Out of the Shallows. Every Little Thing, the second book in her new Hart's Boardwalk series, will be published by Berkley in March 2017. Before turning to contemporary fiction, she wrote several young adult paranormal and fantasy series, including the amazon bestselling Tale of Lunarmorte trilogy. Samantha's debut YA contemporary novel The Impossible Vastness of Us will be published by Harlequin TEEN in ebook & hardback June 2017
Samantha has been nominated for the Goodreads Choice Award 2012 for Best Author and Best Romance for On Dublin Street, Best Romance 2014 for Before Jamaica Lane, and Best Romance 2015 for Hero. On Dublin Street, a #1 bestseller in Germany, was the Bronze Award Winner in the LeserPreis German Readers Choice Awards for Best Romance 2013, Before Jamaica Lane the Gold Medal Winner for the LeserPreis German Readers Choice Awards for Best Romance 2014 and Echoes of Scotland Street the Bronze Medal Winner for the LeserPreis German Readers Choice Awards for Best Romance 2015.
Samantha is currently published in 30 countries and is a #1 international bestselling author.
Excluding my family and friends (who are of course my ultimate favourite things – sometimes – aww), here are my top five favourite things EVER.
1. My library. As an author it is no surprise I have a ton of books. Yes, my kindle is overflowing, and I love my kindle, but there is nothing quite like the beauty of a paperback and hardback. My library is colorful, and when I have kids who hit their teens, there is something in there for them too because I'm a massive YA fan! From YA, to NA, to adult, from romance to paranormal to dystopian, from sci-fi to factual history books, to thrillers to Shakespeare and E.E. Cummings, there is a little something for almost everyone in my library.
2. Baked Goods. Yup. My Achilles heel. If I'm not careful one day I'm going to turn into a giant donut. A giant donut who writes. Okay, that sounds more appealing than it should.
3. My shoe collection. It is possible that I have a shoe addiction. Just a possibility though… Okay. Maybe more than a possibility. I do love a Jimmy Choo moment.
4. Picmonkey! It's an online photo editing tool that I've fallen in love with these past few years. What some readers may not know is that authors have to do a ton of promotional and marketing work as well as write books. This involves creating book graphics – something bloggers are so awesome at! – for our social media. I've lost hours on Picmonkey because it is an exceptionally fun and user-friendly tool.
5. I know I mentioned I was excluding my friends and family as a given, and my two dogs are my family, but everyone loves a cute pic of a dog so I'll end this post on a crowd pleaser. My two mischievous, crazy, affectionate, sweethearts, Ari and Caia (so named after two of my YA paranormal heroines).
Hartwell, Delaware—the perfect place to get away from it all, and find what you never knew you needed…




Bailey Hartwell has many reasons to feel content—her successful business, a close circle of friends, and her steady boyfriend…even if their romance feels staid after ten years without a serious commitment. The only challenge in her life comes in the form of sexy businessman Vaughn Tremaine. She thinks the ex-New Yorker acts superior and that he considers her a small-town nobody. But when Bailey's blindsided by a betrayal, she's shocked to discover Vaughn is actually a decent guy.




Vaughn admires Bailey's free spirit, independence, and loyalty. As his passion for her has grown, his antagonism toward her has only worsened. Every little thing Bailey does seduces him. But when Vaughn's painful emotional past makes him walk away in fear he will hurt her, it opens an old wound in Bailey, and she uncharacteristically retreats.




Once Vaughn begins to realize he's made the biggest mistake of his life, he has no choice but to fight like he's never fought before to convince Bailey that the love they've found together only comes around once in a lifetime.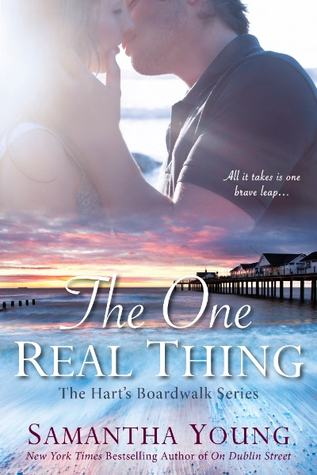 Up for Grabs:
1

Print copy of Every Little Thing
To Enter:
Please leave a comment or question for Samantha.

Please fill out the Rafflecopter form to enter.
**Don't forget to enter our grand prize giveaway!**
Special thanks to Samantha Young for sponsoring this giveaway.
a Rafflecopter giveaway