Today I would like to welcome to the blog author
Shiloh Walker
. Shiloh is celebrating her latest release
Hot In Handcuffs
and has stopped by to talk about her favorite qualities in a hero and heroine. Before I give the floor over to Shiloh, lets get to know a bit about her.
Shiloh Walker
has been writing since she was a kid. She fell in love with vampires with the book Bunnicula and has worked her way up to the more…ah…serious works of fiction. She loves reading and writing just about every kind of romance. Once upon a time she worked as a nurse, but now she writes full time and lives with her family in the Midwest. She writes romantic suspense and paranormal romance, and urban fantasy under the name
J.C. Daniels
.
Places to find Shiloh:
Favorite qualities in a hero & heroine...Shiloh Walker
In a nutshell? Strength, honor & respect. For both of them.
The strength doesn't necessarily have to be physical, although yeah...the strong guy is appealing.
But I don't just want him to be strong. She needs to be his match. Maybe not physically, but I want her to hold her own.
Strength isn't always physical--it can be a strong heart, determination, an unwillingness to walk away from a hard situation. Or just the strength to kick back when life has kicked you one million times. Sometimes my characters find that strength during the story.
Honor, definitely. We write about everything from cops to hired killers in romance but my heroes & heroines need to be the kind who would step up if they saw an injustice happening.
Respect... For each other. That's an absolute deal breaker otherwise. If they don't respect each other, it's a no-go.
Beyond that, it's going to depend on the story and each character. They need to fit each other...by the end of the story, I want them absolutely crazy for each other.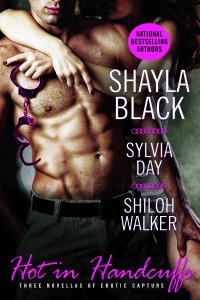 Three Novellas of Erotic Capture
Allow yourself to imagine the man behind the dark sunglasses. Hear the purr of his zipper as he lowers it, then reaches for the shiny metal hanging from his black leather belt. It's futile to resist arrest. Give yourself up to the fantasy. Besides, he thinks you're so hot in handcuffs…
Arresting Desire
by
Shayla Black
FBI Agent Jon Bocelli never stopped wanting beautiful professor Lucia DiStefano. She's interested in taking her first lover, and he intends to be that man. When her past puts her life in danger, Jon risks everything to save her and prove this fling is forever.
On Fire
by
Sylvia Day
When Deputy Marshal Jared Cameron investigates a series of arson attacks in a seaside town, the biggest blast of heat comes from sexy fire inspector Darcy Michaels—until their scorching after-hours affair is compromised by a secret from Darcy's past.
The Unwilling
by
Shiloh Walker
Mica Greer and her former lover, ex-FBI agent Colby Mathis once shared an intimate past and a powerful psychic gift. Now, they've been reunited by a bizarre series of murders—and an electrifying passion that could put them both in jeopardy.
Check out my review
here
.
Places to Purchase:
Click on cover for more info.
Want to win a copy of this book? 1 lucky commenter (US ONLY) will win themselves a copy.
Leave a comment answering the question: What are your favorite qualities in a hero and heroine?
Fill out the Rafflecopter form below. Please answer the question below or leave a meaningful comment.
a Rafflecopter giveaway