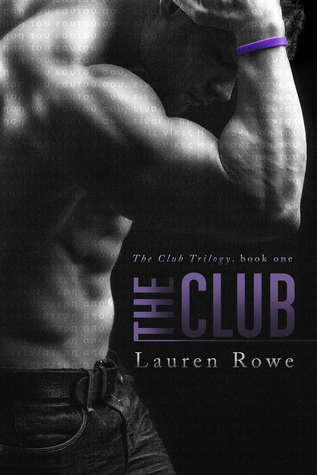 Wow, this book was amazing. The Club sucked me right in from the very first page, and I absolutely couldn't put it down! It was so refreshingly different, and I just loved every bit of it. Lauren Rowe has created such a different story and set of characters and I just couldn't get enough. I already can't wait for the next book because I need more Jonas. I will tell you that these books have cliffhangers and continue from one book to the next, but trust me it is worth the read. Luckily, all three books are now released so you don't have to wait to start the next one.
After hearing his brother talk about The Club, Jonas Faraday can't stop thinking about it and decides to join. When Jonas fills out the online application, he never expects to get a private message back from his intake agent. Jonas is immediately drawn to her and is compelled to learn everything he can about her. As Jonas becomes obsessed with learning who she really is, he enlists his brother and a friend to help them find her. But after he finds her will he continue to only want a short but passionate affair, or will she be the one to finally change his opinion about relationships? And what will happen to his newly purchased membership to The Club?
I freaking loved Jonas. Right away I could tell what would draw women to him, and he never disappointed. He was cocky and confident, and super sexy. But he was also sweet and thoughtful, and extremely smart and deep. This guy seriously had it all, and with each new layer revealed continued to make me fall in love with him just like Sarah did. Jonas Faraday is truly one of a kind, and I loved every side to him. Sarah was fantastic as well. She was smart and sassy, and I loved that she was a bit of a rule breaker. She did what she felt like, and wasn't afraid to challenge Jonas or put him in his place. These two were the perfect match for one another because they made each other better. They pushed each other when needed, and offered support and encouragement as well. Not to mention the chemistry between them was smoking hot! These two really clicked on all levels, and I couldn't wait to see how things between them would shake out.
I will admit that there were a few times in this story that things were a bit slow, and I think part of that was due to some inner monologues and details given. While normally that would made me lose interest in the story, it didn't in this case. It actually made me want to keep reading, because I loved getting inside Jonas and Sarah's heads. I liked seeing their thoughts and feelings, and I was so glad that Lauren Rowe decided to give us both of their POVs. The banter between these two was fantastic, and they were perfectly matched in every aspect. I never expected the twist, and it made me that much more intrigued with this story. I am looking forward to seeing what happens next, and learning more about this fantastic world that Lauren Rowe has created. I highly recommend giving this book a shot. Jonas is more than enough reason to read this story, and I can't wait to dive into The Reclamation.
**ARC Provided by Truly Schmexy PR**