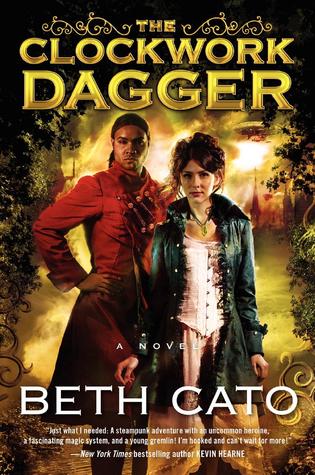 The Clockwork Dagger is the first book in an wonderfully compelling series that features Octavia Leander, a healer with supernatural abilities. A little dark and a lot mysterious and magical, Ms. Cato's first novel is extraordinary!
Octavia is about to embark on her first mission as a trained healer in a land that is scarred by an ongoing war and rife with hardship. However, the route to Octavia's destination is marked with intrigue and betrayal. On her journey she is joined by Viola, Alonzo and Leaf. To say too much about these characters might be a spoiler. Suffice it to say, each has their own importance to the story and their presence only adds interest and potential for excitement in this story and in the next.
I really liked Octavia. She has such a good spirit and only wants to make life better for everyone. She wants to use her ability to heal to make the world a better place. But betrayal shakes her spirit and leads her to hard choices. And she comes to realize her healing abilities are magical and great and are coveted by all sides. Sides in a war that it appears no one will, or should, win.
The Clockwork Dagger is about Octavia grasping for her place in the world and determined not to let others dictate that place. While this is not an unusual theme in the fiction I read, I really liked the heart of this particular heroine. She is strong and smart and brave, but has enough self-doubt to need her friends and her magic to help her find her path.
The first book in the in the series ends with resolution of some of the plot lines, but also on a bit of a cliffhanger. Only a really good book can pull this off and not make me angry! As it is, I just wish I had not read this book until the second book was also out so I could read them back-to-back. The Clockwork Crown will not be available until June, but in the interim, The Deepest Poison, a story about Octavia's beginnings,will be available in April. I will look forward to both of them. When I purchased The Clockwork Dagger, it was in the $9 range, as is the anticipated price for The Clockwork Crown. I certainly got my $9 of enjoyment out of it but Dagger is currently in the $3 range at Amazon, making it an even better buy!