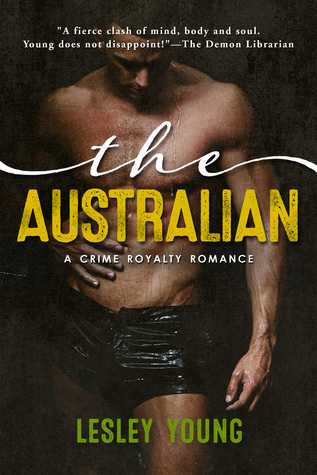 The Australian is the second book in the Crime Royalty Romance Series by Lesley Young, but each book can be read as a standalone. I don't really even know where to begin with my feelings on this book, but to be honest they are mixed. While there were things that I really liked about this story, there were also parts that I really didn't care for at all. I felt confused on more than one occasion, and to be honest I didn't care for the heroine at all. What started off as different and quirky quickly turned to annoying and over the top.
After losing her mother, Charlie Sykes heads to Australia to start over. She has never been great with social settings, regardless of her book smarts. When she begins to work for Jace Knight, she lets him know upfront that there will be nothing but a professional relationship between them. If only her body felt the same way. She finds herself unable to avoid the attraction between them and soon she is engaging in the last kind of relationship she expected with him. But when she finds out that Jace might be involved in criminal activity, she begins to wonder if she knows him at all. Can Charlie trust Jace and her feelings for him, or is she setting herself up for disaster?
I thought that Charlie was a bit odd at the beginning of the book, but by the end I really just didn't like her. She was very annoying and everything about her got old very quickly for me. She is so socially inept and completely awkward. She has zero social skills and is logical to the point of being almost a literal Sheldon Cooper in female form. Though Sheldon is geekily adorable and you almost feel like he is a grown child that you love, whereas Charlie was just impossible for me to like or relate to. Unfortunately with the story being told from her POV, I felt like we were stuck with her and that she pretty much killed all the positive in the story. Jace was mysterious and sexy, and you never quite knew exactly what was going on with him. I loved seeing his amusement with Charlie and you could tell that she was different to him right from the start. But all the good I felt for him didn't make up for Charlie. You could tell that these two were attracted to one another, and I expected things to get better once they started acting on the chemistry between them. But if anything it made things worse for me considering that it was Charlie's POV we were seeing it from. The sex came off as clinical and more of a biology lesson than a steamy and sexy romance scene. I just felt like it took all the heat from it by being seen through Charlie's eyes.
Overall, I was interested to keep reading and see how things would play out but I didn't love this story. Charlie was my biggest issue, and unfortunately she never got better to me. I think another issue for me was Lesley Young's writing style. For some reason I just didn't mesh well with it, and it just didn't work for me. The entire thing felt so formal and stilted to me, and it just didn't have an easy flow that made me want to keep reading. The dialogue was awkward and I felt like I was constantly trying to figure out what was going on or what the characters were saying. There was a lot of Australian slang, and although most times it was explained I felt like it disrupted the story. So while the story itself wasn't bad and I wanted to know what would happen, I found myself wanting to put this one down because I wasn't enjoying the writing itself. That is purely a personal complaint though, and I think the author's voice just might not be for me. I think if you are looking for something different that will keep you guessing that you might give this one a shot. But unfortunately this one just didn't work for me like I had been hoping for, and I wasn't feeling the romance at all because of the heroine.
**ARC Provided by Book Plug Promotions**