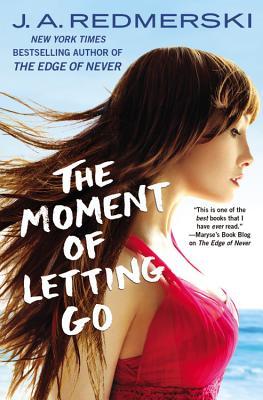 The Moment of Letting Go by J.A. Redmerski is a great summer read for new adult fans. Taking place in Hawaii, I could clearly picture myself reading this one poolside or on the beach. It had some really great moments that I absolutely loved and it also had a few things that weren't my favorite. But this one was a good story and I would definitely read more from Redmerski in the future.
Sienna is an events planner working her way up in the business. When she gets assigned a wedding in Hawaii, she heads there with her best friend and assistant Paige to make sure that everything goes as planned. But when she meets the sexy surfer Luke, she isn't quite ready to go home and decides to stay for two weeks when he asks her. Though Luke knows that he should have stayed away from Sienna, he found it impossible to fight the connection between them. But as Luke and Sienna continue to grow closer as their time together begins to run out, Luke has to remind himself that there is a reason that he doesn't do relationships.
I liked both Luke and Sienna, but I didn't really feel as though I could connect with Sienna much. I liked Luke better that I did with Sienna, and I think part of that was that Sienna lacked depth. While I didn't dislike her, I just didn't find myself really connecting with her or getting to know her character. I was glad that Luke pushed her to let go of some of her fear and embrace life more, as I think she desperately needed that. Luke was dealing with things from his past that he didn't like to talk or think about, and that kept him constantly wanting to push Sienna away though he knew there was something between them. While he had secrets that Sienna didn't know, the reader did get to see some of that thanks to the dual POV. I did want him to open up to Sienna and let her in earlier in this story, and I think that it might have made this one easier for me to get into had we seen these two start to share more with each other earlier. Because while I saw a clear connection and chemistry between them, I felt things progressed pretty slowly here despite the fact that Sienna decided to stay in Hawaii after just meeting Luke.
Overall, this was a good story and I enjoyed the takeaway of letting things go and embracing life and adventure. For me, this book was more about the message than the relationship though and I wish I had been able to connect more with the characters. I still think that it was a good story, I just wanting something more here. If you are a fan of Redmerski's I think that you will really like this book, and if you are new to her this is one that has a good message and is worth the read. I think that this is definitely one that new adult fans will really like though as it deals with younger characters learning to embrace life despite their fears and insecurities. While this story had romance, it had more of a coming of age type of feel to it, so I would recommend it for those that are looking for that more than a love story.
**ARC Provided by Publisher**