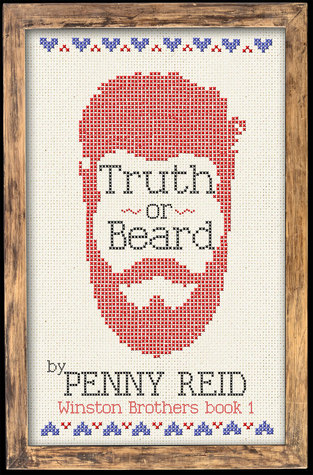 Truth or Beard is my first book by Penny Reid, and it is also the first book in her new Winton Brothers Series. I actually got to meet Penny at an event last year and she was so nice and funny, that I just knew her books would be great from talking to her. After reading Truth or Beard I can tell you that I was right about her writing talent. Her personality came through so well in this book, and I cannot wait to read more from her.
Jessica James has a huge case of wanderlust, but after recently graduating from college she needs to pay some bills and save some money before setting out to see the world. She returns home to live with her parents and becomes a teacher. But when she comes face to face with her longtime crush Beau Winston and his annoying twin brother Duane, things quickly begin to change for her. While Beau has always been her hero, Duane is the one that has always tormented her and found every opportunity he could to argue with her. So when Jessica makes the mistake of thinking that Duane is Beau, she is unprepared to realize that Duane is no longer the same guy she thought she was and her body has definitely taken notice of the man he has become. Duane is determined to show her that there is something between them, but with her leaving as well as Duane getting himself in some trouble, can they have any shot at something together?
I really liked these characters. They were each fun and different, and I loved that they weren't your average or cookie cutter types. Duane and Jessica were so easy to like. They had chemistry going all the way back to when they were kids, and I really liked seeing them remember the things that had once annoyed them differently as adults. But the best thing was seeing them get to know one another as the people they were now. They had a ton of passion between them, and I loved watching the sparks fly when they were around one another.
Overall, I really enjoyed this book. I was drawn in right away and I really liked the secondary characters. I think that Penny Reid did a great job of setting up the series for them and I can't wait to see what happens next! I will say that the one thing that kept me from giving this one five stars was that I felt like the back and forth did get a bit old at times. But otherwise I found this book really funny and well written and I am really looking forward to reading more from Penny in the future. I definitely recommend Truth or Beard, especially if you are looking for a great story that will keep you laughing the whole way through.
**ARC Provided by IndieSage PR**