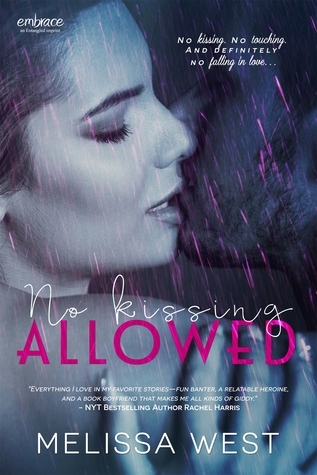 No Kissing Allowed was a quick and light read from Melissa West, and I really enjoyed it a lot. I finished this book in one sitting as I was really enjoying the story. I liked the characters and West's writing style. No Kissing Allowed is one that I would recommend to NA fans, and it won't be the last I read from Melissa West.
When Cameron goes out to celebrate their recent graduations with her best friends, they have a list of 10 things to do before they become adults. Her competitive side urges her to do whatever it takes to win, and she ends up spending the night with a super sexy stranger. But when she shows up to her dream job, she is shocked to find her hookup is actually her new boss Aidan. Aidan had wanted more from Cameron, but he doesn't date or do any type of commitment. Even if they wanted to pursue anything, their company has a no fraternization policy. Aidan and Cameron find themselves drawn to one another and fighting harder than ever to stay away from each other, but is it only a matter of time before they start breaking all the rules to explore what is between them?
Aidan and Cameron were great right from the start. I instantly liked them, and I felt the chemistry between these two right away. They were fun and sexy, and I liked seeing them both outside their comfort zones. Aidan and Cameron were passionate about their work, and I loved that they shared that. They worked well together, and it was obvious that these two just clicked on every level. These two were funny and I enjoyed their banter. But they were also really cute at times, while steamy at others. Their connection was natural, and they opened up to each other without even really making the choice to do so. It was like these two just let the other in and spilled all their secrets when they didn't mean to, and that told me so much about what was happening between them.
Overall, this was a really good story. I will say that I loved the first half of the book, whereas in the second half I had a few issues with it. It felt sort of rushed to me, and it was pretty noticeable that something had changed a bit for them. I wanted it to flow a bit more seamlessly, while still progressing forward. I loved Aidan and Cameron together though, and I enjoyed seeing them figure things out as the story progressed. I also really liked Cameron's friends, and I felt like they added a lot to the story. This was a really great new adult story, and I think fans of the genre will really enjoy it. If you are looking for a great book that is light and quick, this is one that I would recommend. I look forward to more from Melissa West in the future.
**ARC Provided by Publisher**