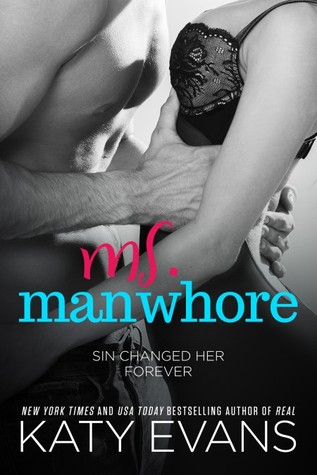 Ms. Manwhore is the short and sexy conclusion to the Manwhore series from Katy Evans. This novella picks up after the first two books in the series and needs to be read in order. Saint and Rachel are finally together and things between them couldn't be better. So when Saint pops the question Rachel immediately says yes. But can one woman be enough for Saint forever? Or will he forever be a manwhore?
This novella was really sweet and I have loved Saint and Rachel from the beginning. I enjoyed seeing them begin the next chapter of their life and seeing them as they planned their wedding. These two are absolutely perfect for one another, and that was never more clear than here. They continued to have the explosive chemistry that they have had from the beginning, but they also have a tenderness to them as well. These two were so great together, and the love between them is so special.
I will say that this one was a bit choppy feeling to me though, and it didn't have the same feel as the other books in the series. For some reason it just seemed to be disjointed and didn't flow as well as Katy's books usually do. It almost felt like cut scenes from a movie rather than a well flowing story. I did like that we got this ending for them and that we were able to see how far they have come. But I felt like this one could have been pieced together better than it was, and unfortunately I didn't think that it was what I was expecting here. I found myself wishing that this had been more of a story rather than what felt like a few scenes spliced together with glimpses of some of my favorite characters. I love Katy Evans and her books though, and I know I will read more from her in the future.
**ARC Provided by Publisher**