Sharon Sala
, who has also written under the name Dinah McCall, has 85-plus books in print, published in four different genres—Romance, Young Adult, Western, and Women's Fiction, and her Young Adult books have been optioned for film. She has been named a RITA finalist seven times by Romance Writers of America, and in 2011 they named her the recipient of the Nora Roberts Lifetime Achievement Award. Her books are New York Times, USA Today, Publishers Weekly bestsellers and published in many different languages. She lives in Oklahoma, the state where she was born.
Do you live in a small town? What is your hometown like?
I no longer live in a small town, but I grew up in one. Population 500 counting the dogs on a good day. It was the best and sometimes the worst place to be. Everyone knows your business, but at the same time, when you are in trouble or sick and in need, everyone also has your back. It is still there, but even smaller than before. No stoplights, no stop signs, and there hasn't been any local law in town since the mid 70s. Whatever happens is relayed to a County Sheriff who may or may not show up.
I loved going to school there. My mother was a teacher. She was my fifth grade teacher, and it was the worst school year ever. She had to be extra stern with me and then my sister the following year just so the other kids wouldn't think she was playing favorites. Oddly enough, the kids all felt sorry for us. It was the only year in all of my 12 years of elementary and high school that I wasn't called a teacher's pet.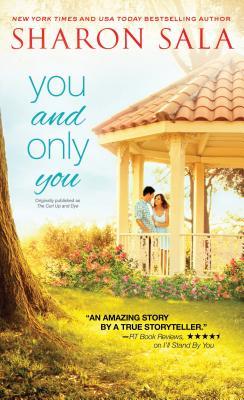 Welcome to Book One in the Blessings, Georgia series of Southern contemporary romance from New York Times and USA Today bestselling author Sharon Sala. With the support of her handsome, unassuming friend Mike Dalton, LilyAnne Bronte is finally ready to put the past in the past.




It's never too late




Mike Dalton has secretly loved LilyAnn Bronte since they were all children together in the small town of Blessings, Georgia. But one fateful day T.J. Lachlan roars into town and starts showering LilyAnn with his charm, and Mike feels his dream of them being more than friends slipping away.




To find the love you missed




LilyAnn, as anyone in Blessings will tell you, let herself go after her fiancée was killed in Iraq. The attention of the handsome new guy shocks her into a revelation: she's ready to live again, and maybe the best is yet to come. The thing is, everybody in Blessings is sure it's Mike and LilyAnn who belong together—and they're willing to do whatever it takes to make LilyAnn realize the love of her life has been by her side all along.




(Originally published as The Curl Up and Dye.)






Up For Grabs:
3 Print copies of I'll Stand by You
To Enter:
Please fill out the Rafflecopter form.
Special thanks to Sourcebooks for sponsoring this tour-wide giveaway.
a Rafflecopter giveaway