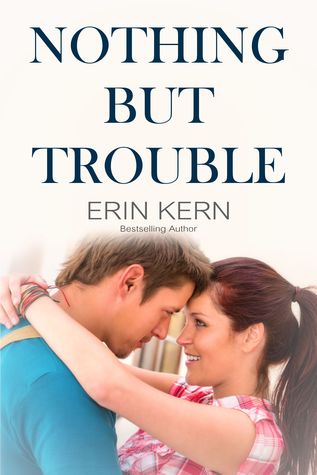 Nothing by Trouble is the fourth book in Erin Kern's Trouble series, but can easily be read as a standalone. This book ended up being different than what I had originally thought it was going to be, but I still enjoyed the story. This was my first book by Erin Kern, but I liked the characters and writing style. I thought that this one had some slow moments though, and there were a few other things that I had mixed feelings about which kept me from loving this one.
Rebecca Underwood has a successful career as a doctor working for her mentor at his practice. Her life is good and she likes things the way they are. With her father's retirement coming up, her mother and her decide to have his classic car restored as their gift to him. Unfortunately for Rebecca, that means going to the one person that she would rather not have to interact with. Years ago R.J. Devlin took her virginity and left her behind. Rebecca had had a crush on him forever, and knew that things would end in heartbreak for her but couldn't stop herself from trying with him. R.J. doesn't do commitment though and has had one woman after another for years. With R.J. and Rebecca interacting more than ever, they both realize that the attraction is still there between them. Rebecca has always been R.J.'s weakness and has had a way of getting under his skin like no other woman. He knew that she deserved more though and did the only thing he could, push her away. But as Rebecca's carefully ordered life starts to fall apart and her career is threatened, R.J. can't help but want to do anything he can for her. Can Rebecca convince R.J. that they are worth taking a chance on?
I will admit that I had some issues with R.J. I thought that he should have known better at his age that Rebecca could make decisions about her life. He knew that he had feelings for her but because he felt that she deserved better, he not only pushed her away but also was at times a real jerk to her. He messed with her head and went out of his way to play games with her, and I thought that it made his character hard to like at times. He also tended to lash out at her and would think the worst when he had known her for years. I wanted him to wake up quicker, but I am glad that he was able to start to see that they were great together and deserved a real shot. Rebecca was strong and successful, and I liked that she was so passionate about her job. She was kind and caring, and she was so dedicated to helping others. Even after everything that she had been through, she found a way to forgive and look out for the well being of those that didn't deserve it. I thought that she was a bit weak when it came to R.J. though. I thought that she kept making excuses for him and forgave him far easily and more often than I would have. I did think that they had chemistry and they had a lot of history together, but it was hard for me to really get behind their relationship considering how long it took things for them to really start to turn around.
My biggest issue with this story was that by the time that the main characters finally got around to being on solid ground the book was just over. I felt like we had been waiting for that moment for so long, and that we as readers didn't really get any chance to enjoy it before the ending. I wanted to see a bit more of them together and really on solid ground considering that they had been apart for the whole book pretty much. This one also started off slowly to me and took awhile to get into. While I did like it, I thought that there were several moments that the story would drag. I found myself losing interest and wanting to put it down. I do think that it was good, but it wasn't one that I would go back and read over and over. I think if you are looking for a contemporary romance with a bit of suspense, you might give this one a shot.
**ARC Provided by Give Me Books**
Purchase:
|
Amazon
|
B&N
|