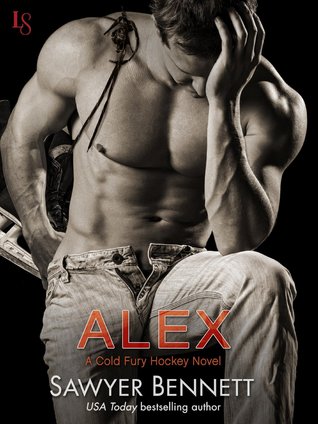 Alex is the first book in Sawyer Bennett's Cold Fury Hockey Series and I really loved this book. It was such a great read, and I was sucked in instantly. I didn't want to put this one down and couldn't get enough of these characters. I can't wait to read more in this series and see what else Sawyer Bennett has in store for the rest of the Cold Fury Hockey team!
Alexander Crossman is the star player of the Carolina Cold Fury hockey team, and is known as their MVP. Most would think being the MVP is a good thing, except in his case it is Most Valuable Prick rather than Player. When the organization grows tired of his attitude, they insist that he clean up his act if he wants to stay with the team. Part of his new obligations include helping a local social worker develop a drug and alcohol abuse awareness program to help at-risk children. While Alex supports the worthy cause, he can't help but hate that he was forced into it against his will. When he meets the social worker that he will be working with though, he immediately is drawn to her and looks forward to the time that they will spend together. While Alex doesn't do relationships and has never been one to open up to women he finds himself connecting with Sutton in a way he never has before with anyone. But Sutton likes to keep professional boundaries and isn't interested in anything more than friendship and work despite the feelings and attraction growing between them. The more they get to know one another though, the more things change between them, and soon both Sutton and Alex are beginning to want more from one another.
I really liked Alex. He did come off as a grumpy jerk and didn't seem to be one that you would normally want to root for. But I kind of liked that about him. He was always painfully honest and didn't give in to the BS. I really loved him, and I was really excited to see how he changed with Sutton entering the picture. She was great for him, and I thought that she was exactly what he needed in his life. His father was awful and I liked that Sutton showed him how amazing he really was and helped him to see the good in his life and with hockey. Sutton was such a great heroine! She was likable and easy to relate to. She was strong and kind, and had a goodness to her that is uncommon. She was perfect for Alex and I loved them together. The chemistry between them was off the charts, but they also had such a strong emotional bond as well.
Overall, this was a great first book in the series. I really loved the story and the characters, and I honestly can't wait to get more of these hockey players! The story was sweet and sexy, and had everything I look for in a great romance story. I didn't want to put this book down, and I pretty much devoured the entire story in one sitting. I really think that this is a great story for contemporary fans, but if you love sports romance stories like I do then you are definitely going to want to give this one a go. I look forward to more from Sawyer Bennett in the future, and can't wait to read the next in this series, Garrett.
**ARC Provided by Random House Publishing Group-Loveswept**
Purchase:
|
Amazon
|
B&N
|