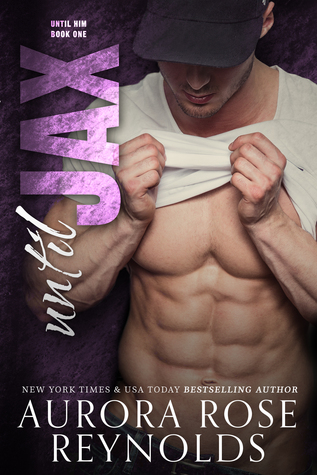 Until Jax is said to be the first book in the Until Him series from Aurora Rose Reynolds. While this one is supposed to be a standalone, I would recommend reading the first book in the Until Her series (Until July) before reading this one. I am not sure exactly what the deal is here since the characters are all interconnected and Until Jax picks up right after the end of Until July. It was a bit confusing since they are technically shown to be from a different series. Until Jax and Until July are both spin-offs of the Until series, and feature the children of those characters. These books can be read without having read the Until series, but I would still recommend reading Until July before starting Until Jax.
Ellie Anthony wasn't looking for a relationship, but when she meets Jax Mayson everything changes. Jax knows from the moment that he meets Ellie that he will do whatever it takes to protect her and her daughter Hope. Ellie knows that the feelings she is developing for Jax are happening really fast, and she has more than just herself to think about. However Jax is determined to show her that he loves her and Hope and wants them to be his family forever. But Ellie and Jax both have things from their pasts that they will have to face in order to find a way to be together.
I really loved Jax and Ellie here. It was so clear that these two had a connection right away. But I loved that Hope was also such a huge part of that. Jax was sweet and protective, and seeing him with his girls was absolutely adorable. Hope had him wrapped around her finger, and they were so cute together. Ellie was great with him as well, and I really loved their chemistry. Ellie was so strong and the fact that she took care of Hope at such a young age was so admirable. She always put her little girl first, and I loved that they had such a great bond. Seeing that they had a similar relationship to the one that Jax had with his mom, it really made it that much sweeter. Family is what we choose to make it, and it just goes to show that love is what means family, not always blood.
The one thing that is common with these books from Aurora Rose Reynolds is the fact that they each center around insta-love, or what she calls the BOOM. Since that is known beforehand, I never let it bother me. But if that is something that drives you crazy, just be aware of that before starting. The connections all feel so real and natural though that I don't even really notice it. The other thing I will say here though is that I would keep in mind the issue about this one being a standalone. You can read this one as a standalone if you are willing to stick with the story, as things are eventually explained. But the beginning is very confusing if you haven't read Until July, and it definitely feels like you are being thrown into the middle of a story already in progress. That is why I really recommend reading that book before this one. I had read Until July before reading Until Jax, and even I had to go back and read the last bit of Until July to refresh myself on the situation as it had been so long and I couldn't remember what had happened. I was confused and felt like I had missed a few chapters of the story here, but once I read the end of Until July it all came back to me. I think that these books are good stories and are definitely worth the read though. I will definitely read more from Aurora Rose Reynolds in the future, and I am really looking forward to getting more of the secondary characters and the stories that were set up here, especially Sage and Kim's.
**ARC Provided by TRSOR Promotions**