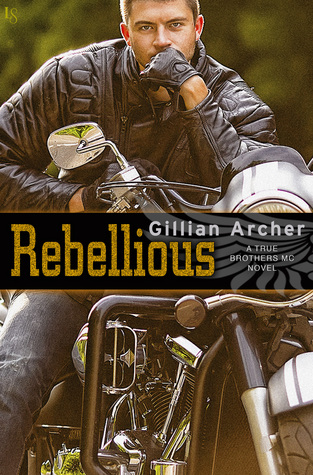 I should have, would have and could have loved this book. This book had everything a reader like me is looking for. It is a MC romance (check) with a big bad alpha biker prez (check) who falls for a sweet librarian (check). I don't know what it says about me but I love the dominating alpha males who fall for the sweet innocent girls. In this case, there was something extra in it for me because Reb (the Hero) has a young son and his interactions with his child help to reveal his softer side. Another thing I love, finding out the big bad wolf has a heart of gold.
Reb meets Emily when she takes care of his son while Reb's ex is off doing whatever. Emily basically saves Tucker (the kid) from being locked out of his apartment and alone by delivering him to Reb at the MC clubhouse. This is Emily's first real introduction to MC's but it turns out she has met Reb in the past. Emily's best friend is in a relationship with Reb's best friend. Emily had seen Reb several times at the hospital after her friend was hurt in some MC business that went wrong (I assume all of this is in a previous book in the series that I have not read).
At first I was super excited about Reb and Emily. I mean, I could already see the 5 stars dancing through my head. There was insta-attraction but Reb tried to respect Emily's boundaries and lack of experience. Emily also easily fit into the relationship with Reb's son. I thought we were headed for really great things. But then Emily happened.
Sometimes an author can just take a thing too damn far. That's how I felt about what happened with Emily's character. Emily was in an abusive relationship in the past. Ok, I get that and I get that there may be some residual effect from that. But Emily was....I'm struggling to find a word so here is a list: IMMATURE, emotionally fragmented, skittish, weepy, unstable, inconsistent, scary as hell, ungrateful, stupid etc. Reb has his club rules and what not and he is uncompromising. If you've read any biker romance, you get that this is how they roll. Emily's reaction was to somtimes stand up and get in Reb's face. Other times, she would LITERALLY hunker in a corner, tremble and weep in fear. She cried over things that most women wouldn't blink at. And then, when she is in a bad situation and Reb helps her, she is angry and damn near gets him arrested.
I rarely have this strong of a reaction to a character but Emily is a complete IDIOT. There are several times when I wanted to just give up on the whole damn book because I hated her. I powered through but in the end, I would have loved this book if it had just been Reb. Of course that would not have worked because it's hard to have a romance with just one character. For that reason, there is no love lost between me and this one. I will say that I would definitely read other books by this author. i would assume that not all of her characters are as annoying as Emily. If that is the case, I think I would really enjoy her books.
**ARC provided by Publisher**