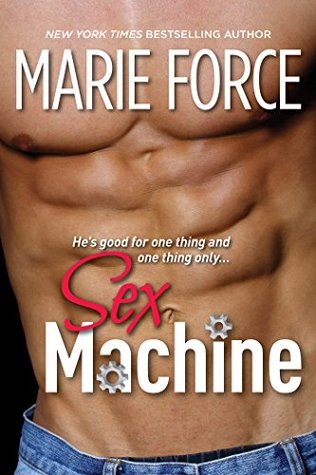 I really enjoyed Sex Machine by Marie Force. This book is a standalone story, which was refreshing after reading so many books in series lately. I was a bit worried when starting this book if I am honest, as I didn't know how much of a story there would be here. I am glad to say though that while the title and cover of this book promise a ton of steam (and deliver!), there was a great story to go along with that. Marie Force did a great job of balancing everything out and making this one that I liked from start to finish.
Tired of never having had a good orgasm, Honey Carmichael sets out to get one. With no one better to provide one, she goes to Blake Dempsey, the man with a reputation for his skills in bed. Blake is more than happy to help Honey out, as long as she knows that it will be nothing more than sex between them. After losing his high school girlfriend, he has nothing to offer anyone and knows that it is best to make that clear from the start. But when feelings start to develop, both Blake and Honey are forced to face the fact that life has other plans for both of them.
These two were great. Easy to like and I felt the chemistry between them right away. There was so much steam between Honey and Blake, and I couldn't get enough of them. But there was also a really great connection developing as well, and it was one that neither of them wanted or planned. There was so much emotion though as well, and I really felt like Marie Force delivered a solid story here that wasn't just one giant sex scene.
I will say that there were a few things that kept this one from being a five star read for me, but overall this was a really good story. There were a few times that things got a bit cheesy for me with the constant play on Honey's name, and I could have done without some of that. I also felt like there were times that things were mentioned over and over, and that wasn't necessary either. We got how big he was, and it seems like the author felt the need to keep on mentioning that throughout the story as though we might forget just how big he was. That being said though, I still really enjoyed this book and I am looking forward to reading more from Force in the future.
**ARC Provided by Author**