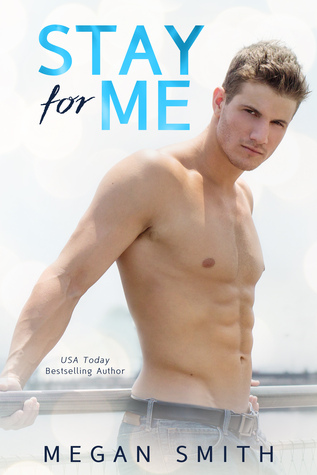 Stay for Me is a spin-off to the Love series by Megan Smith. You can easily read this book as a standalone, but I would recommend reading Let Me Love You since Jaylinn and Cooper play such a large part in this book. It isn't necessary to understand the story, but they happen at the same time and I think that you get a much better understanding of what is going on in both stories if you read them both. That being said, I am having a really hard time writing this review. I think that there are a lot of readers that are going to feel exactly as I do right now about this book, and that isn't necessarily a good thing.
Eli Sabatino has just opened up a a new club with his best friend Cooper. He hires Layla Del Luca as a bartender, but he never expected to feel the pull to her that he did. Layla has been trying to go to school, make money to support herself and her family, as well as avoid her abusive boyfriend Brian. As Eli and Layla get to know one another better they can't help but begin to feel more for each other than they know they should. Eli is determined to explore things between them, knowing that her boyfriend doesn't deserve her. But Layla has her reasons for sticking with Brian. Can Eli and Layla find a way for her to leave her past behind and move forward together, or will there be too many things standing in their way?
I really liked Eli. I thought that he was really sweet and was a good guy. He was great with his niece and with Layla's sister Fallon. He genuinely cared about his friends and family and those that worked for him. He was always looking out for them and doing what he could to help them. I thought that he was really good for Layla. He showed her that it was okay to ask for help and to let someone in. I was glad that he didn't turn her away when she was finally able to see that she needed someone. Layla was struggling to do so many things at once, and her loyalty and love to her sister were amazing. She was determined that Fallon would have a better life than she had had, and I really liked that she tried to let Fallon not see how hard things were. She worked hard and did what she had to do. She had been so used to going it alone, that it was easy to see why it would be hard for her to let others in. I really liked seeing her open up to Eli though, and I loved that they were able to have fun together. They had their sweet moments, but they were also really hot together too. I was glad that their relationship developed slowly though, and that they didn't rush into bed together.
I will say that I felt like while things progressed rather slowly over the first half of the book, that things seemed to rapidly pick up after about the half way mark. Things started to happen too quickly to me, and it felt pretty rushed. I kept wondering why things had changed pace so suddenly and then the ending happened and I saw what the author had been trying to do. I say trying, because it honestly didn't feel as though she had accomplished what she was meaning to. It felt rushed and unrealistic, and then the ending happened and changed everything. While I really liked this book for about the first 90% I have to say that the ending really killed that for me, which is why I am rating this book 3 stars. My rating would have been 4 stars, except for that ending. The ending made me want to give this book 2 stars, but I really felt that wasn't fair considering I had enjoyed the majority of this book. So I give it 3 stars, and call the fact that I didn't pull a Bradley Cooper in Silver Linings Playbook and chuck my Kindle out the window a huge success. I have no idea why the author felt the need to go where she did, and I didn't see any point in it. I have to admit that I am a bit skeptical about reading anything else from this author in the future after reading this book. I think that there are those that will read and enjoy this book, but for me this wasn't what I had been expecting or hoping for. I don't always need things to be completely wrapped up in a nice package, but I do expect things to have a satisfying ending and I just don't feel as though this ending achieved that.
**ARC Provided by Book Plug Promotions**