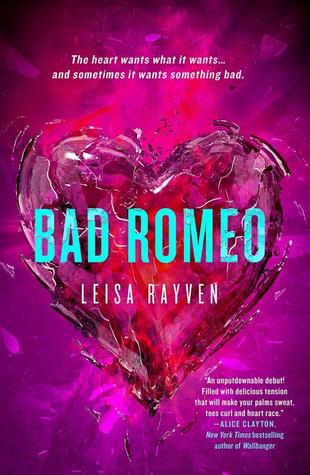 Bad Romeo is the first book in Leisa Rayven's Starcrossed Series and is the first part of Cassie and Ethan's story. Readers should be aware that it does end with a cliffhanger, with their story continuing in the next book, Broken Juliet. I will admit I was a bit skeptical going into this one after finding out that this story originally started off as Twilight fan fiction. I figured that we had been down that road before several times, and was worried that there wouldn't be anything new this time around. That was not the case here though. I really loved Leisa's writing style and I thought that this one was really refreshing. That isn't to say that I didn't have issues with this one, because I did. But I really thought that this was a good start to their story, and I will definitely be reading the next book.
Cassie Taylor and Ethan Holt met when auditioning for acting school. Their chemistry was instant so when they both wind up getting in, Cassie is ready to see what is between them. They get cast opposite one another as Romeo and Juliet, and their chemistry is stronger than ever. But Ethan pushes Cassie away, though she can tell that he is fighting what he is really feeling. Now six years later, life seems to be repeating for these two when they are cast as the leads opposite one another once again. But Ethan broke Cassie's heart twice in the past and she isn't sure that she can handle acting as though they are in love. Ethan knows that he hurt Cassie, and he has been suffering ever since. He is ready to show her that he has changed though, and will do whatever it takes to win her back. Will Ethan and Cassie be able to put the past behind them and take another chance together, or will they finally get the closure they need to be over once and for all?
These two both really annoyed me at times, and yet I couldn't get enough of them! Ethan kept pushing Cassie away saying how much he would hurt her and that she shouldn't be anywhere near him. He felt like her heart wasn't safe with him, and so he hurt her before he could be in a relationship with her and hurt her? It didn't make much sense to me, but boy logic is usually like that. I didn't really think that it stood up though considering that once his past was revealed, it wasn't as big of a deal as I would have expected. Yes he had been hurt and I can get being a bit skeptical and unwilling to just offer trust right away, but Cassie was nothing like his ex and would never have done what she did to him. Cassie was pretty relentless when it came to pursuing Ethan, and while I admired her ability to never give up, it also came across as a bit pathetic as well. Here is this guy that keeps pushing you away, and she did not get a clue. She just kept going after him and laying it all out on the line for him. I kept waiting for her to walk away and make him come back groveling, but each time she gave in and it came off as though she was a doormat willing to take whatever Ethan would dish out. They had great chemistry, and their connection was really strong as well. The more they got to know one another, the more I could see a bond forming. It was really frustrating to see that and then to see them continue to fight the same things over and over. I really do believe that these two are meant to be together, which is why I was able to put up with the drama and angst and continue reading this one. If you are a reader that can't handle a lot of back and forth and angst, this one probably isn't for you.
The other thing that I had an issue with was the way this story began to unfold. While I really liked Leisa's writing, I found the transition between past and present to be jarring and at times very confusing. The story was similar enough in past and present that it was hard to tell at times when and where we were. I also felt like this book brought a lot of things up, but didn't really explain them. I am hoping that these will be dealt with in the second book, as we don't even really get to see what happened between these two to cause them to breakup twice. The fact that Ethan broke her twice is stated on more that one occasion, but we only get to see one time in this book, and even that is very brief and the circumstances surrounding the why and what happened following it were left unexplored. I will say that I couldn't put this book down though, and I really loved how funny and refreshing the dialogue was. There were a few times that Cassie's immaturity and age showed though, but I loved seeing these two interact and liked the banter between them. I really loved the secondary characters in this story, and I thought that they added so much. Besides the interaction between Cassie and Ethan, I really loved seeing them with their friends. I am looking forward to reading the next book, and I really can't wait to see what happens next for these two as well as hopefully getting more of their past explained.
**ARC Provided by St. Martin's Press**