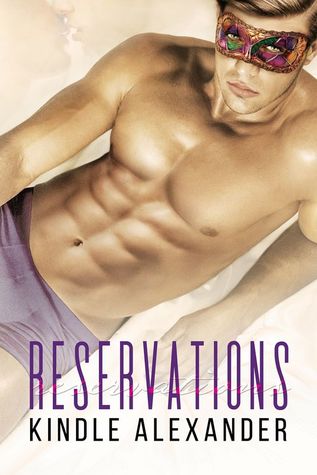 I'm always excited to get a new book from Kindle Alexander. This writing duo is one of my favorites, and they write such beautiful and heartfelt stories. My very first M/M novel was one of their books as well, so they will always hold a special place in my heart having introduced me to this genre that I now love. They continue to write great stories, and I have not been disappointed by them yet. I really enjoyed Reservations and it was another good read from them even if it wasn't my favorite of theirs.
Levi Silva is a hard worker that gives everything to his dream of attending medical school. But after losing his father, he finds himself the guardian of his two younger brothers working extra to make sure he can support them. So when an opportunity to earn more comes up, Levi takes the chance though he has some reservations. His new job finds him working for Thane Walker, and neither of them are prepared for the pull between them. Though both of them have aren't looking for a relationship, they find it harder to fight what is happening between them the more they are around each other.
I liked these two a lot. Each of them had their reasons for not wanting anything serious, and yet these two were absolutely made for each other. They were super hot together, and the chemistry between them was off the charts. I really felt their connection as well though, and that is something that the duo of Kindle Alexander really excels at. They always bring the heat and have plenty of steam, yet their couples are so much more than just a physical connection. I love that they bring such depth and emotion out of their characters and that was definitely true here with Thane and Levi. Though each of these two tried to fight what was happening, it was obvious that they belonged together. There were some frustrating moments here though if I am honest, but I believed that in the end they would figure things out.
Overall, this was a good story. I did feel that the pacing was a bit off at times. There were some slow parts that would drag, and then other parts felt a bit rushed. I wish it had been a bit more even and flowed better, but it was still an enjoyable read. The ending wasn't entirely what I had hoped for, and while I am excited for Julian's book I felt like things were pretty abrupt. I would have liked a bit more. I felt like this story had everything that I love from Kindle Alexander, but that it wasn't quite as polished as their previous books. While it wasn't my favorite of theirs, it definitely won't be the last I read from them. I think readers should give this one a shot, especially if you are a fan of the M/M genre and Kindle Alexander. If you are new to their books, I highly recommend reading some of their previous releases as well, especially the Nice Guys series. That is one of my all time favorites and really started my love for the M/M genre.
**ARC Provided by Enticing Journey Book Promotions**