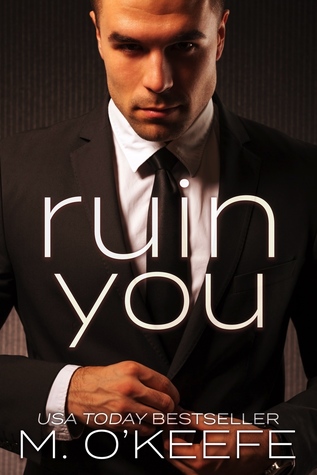 Ruin You is the third book in Molly O'Keefe's The Debt series, but it is a standalone story. I hadn't read the previous two books, but Molly did a great job of explaining everything I could possibly need to know here and I wasn't lost at all. I have mixed feelings on this book, but overall I liked this world that Molly has created and I am interested to read more in this series.
Simon lost everything as a result of Penny's father, and he has been looking for revenge for years. Penny has been hiding and lying to everyone, though she finally has a place to call home. But when Simon arrives at her place, The Paintbrush Inn, the attraction between them is strong and more than they can fight. Each of them have their secrets and neither of them are telling the other the truth. When everything is revealed will they have a chance to put the past behind them and move forward together, or will they both be ruined?
I liked Simon and Penny enough here, but I didn't feel any real spark with them or a connection to them. They were a bit lackluster for me, and I wanted something to draw me in and make me feel more invested in them and their story. Unfortunately that didn't happen here, so while i liked things about them I just didn't love them or their story. It was definitely more of a slow burn, and I think that was part of my problem. While I am not opposed to a slow burn, I need that tension and chemistry between the characters to keep me interested for the eventual payoff, but this one fell a bit flat.
I also felt like this book was a bit off as far as plot and pacing. Things felt slow with not much happening, yet the ending felt forced and rushed. I didn't really feel like a lot happened after finishing, and I wanted to see more as far as the overall series arc went. Who is Bates and what is going on with him? Why is he calling in these debts now and what is he doing with what he is gaining from them? I know that this series isn't over so not all will be revealed, but I would have liked to have been given some clues or a little more about him. I really hope he gets his own story as I found him the most intriguing here besides Carissa. I definitely want to know more about both of them. While this wasn't my favorite Molly O'Keefe book, I did enjoy parts of the story and I really love the world that this is set in. I will read more in this series for sure and I am looking forward to seeing where things go from here.
**ARC Provided by Inkslinger PR**