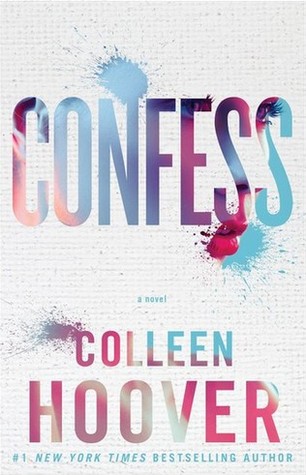 I don't even know where to start with this review. I guess I should start by saying that Colleen Hoover is brilliant and frustrating, and she writes absolutely beautiful stories. Her characters are always unique and there is nothing cookie cutter about them or her stories. I especially love how with Confess and Maybe Someday the stories were so interactive for the readers. With the music in Maybe Someday and the paintings from Confess, they really add so much depth to each book and I always feel like her stories resonate more with readers because of that. All that being said, there were parts of this book that I really loved while there were also parts that really drove me nuts.
Auburn Reed has a plan for her life, and she will do whatever it takes to accomplish it. When she sees a help wanted sign in the window of an art studio, she decides that a second job will help her reach her goals faster. Auburn finds herself drawn to the artist Owen Gentry and his beautiful works of art. He takes written confessions from people and turns them into paintings, and after an article put him on the map people go out of their way to buy them at his monthly showings. Auburn finds herself fascinated with the confessions as she has secrets of her own, and she quickly realizes that Owen does as well. Though Owen and Auburn have a connection unlike any they have felt before, his past threatens her future. Can Owen and Auburn confess their secrets and save their relationship, or will the truth destroy any chance at a future together?
I liked Owen. He was a complicated guy that had experienced a lot of really rough things in his life. He was good though, and I loved how much he looked out for those around him. At first his actions confused me and I wasn't really sure what to think of him, but the more that I got to see of him the more I realized all that he was willing to sacrifice for those he cared about. Auburn was harder for me to like at times. I felt like she was weak most of the time and let others push her around. She would have brief moments where that would change, but I really needed her to stand up for herself more. She was young though, and I understand she was scared. But I just wanted to see more fight in her than I did. She also let things get completely out of control with a couple of characters in this story, one that really bothered me. She had such a connection and chemistry with Owen, that it really bothered me how willing she was to give that up. I understood her reasoning, but to me that wasn't enough. There is always a way to make things work, and I really felt like she should have done something about it far sooner.
Overall, I feel like I can't really get into what my issues were with this story without spoiling anything. As with any Colleen Hoover book there are a ton of twists and turns that you will never see coming, and yet once all is revealed you find out how masterfully she wove everything together. I never could have figured everything out, though looking back there were clues everywhere. I truly hated a couple of characters from this book, and though I can't say why I will say that I thought that they should have been dealt with better. Though I was happy with how this story ended, I feel as if these characters got off far too easily and that one especially should have got what was coming to them. What this character did is never okay, and it was completely dropped. I hate that it was never dealt with, and I felt like there should have been more to it than there was. I do believe that Colleen writes beautiful stories though, and while they are heartbreaking at times they are also filled with hope and love. Owen and Auburn were fantastic together, and I felt like they really belonged together. There was a bit of insta-love on one side of the relationship and yet because of the circumstances of the story it wasn't that way on the other side. I never felt like it wasn't real though, and it really didn't feel as though it was unrealistic in any way. These two seemed like they were so perfect for one another that they had always been meant to be together. I do think that the blurb sort of mislead about Owen's confession though as it could have easily been talking about a few different things. When it came to one secret, it was revealed about halfway through and didn't seem to be as big as I would have expected. The other secret that I felt could be the one was never actually revealed, which didn't really fit to me with the title being Confess. I understand that it wasn't fully Owen's confession, but at the same time I really wanted him to tell Auburn.
Regardless of whether or not you love each book you read from Colleen, they are guaranteed to make you think and feel. I always know that her books will bring out tons of feelings for me and that it will be an emotional roller coaster ride. I have come to realize that when reading any book by CoHo you just have to go in with no expectations and just experience the story. So while I had criticisms with Confess, I also had moments that I really loved. I know that I will continue to read whatever Colleen writes because her stories are always so unique and there is truly nothing out there similar to what she writes. If you are looking for something different, you really can't go wrong with any of her books. I think that a lot of readers will really enjoy this book, and it would be impossible to deny how gifted Colleen is as an author.
**ARC Provided by Atria Books**