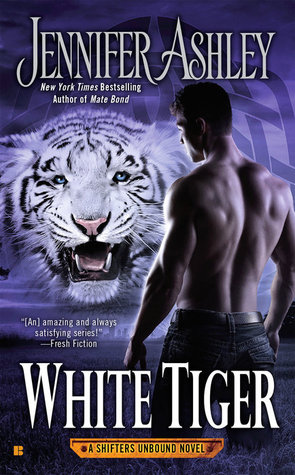 This is book eight of Jennifer Ashley's Unbound Shifters series and woo it is a doozie. From the previous books I wasn't sure that I would like Kendrick, he was kind of a bastard; this book really gives new insight on why he acted the way he did. Addie couldn't have been a better match for him, and the three boys absolutely adorable. I love this series, it is one of my favorite shifter/paranormal series. This one I believe can be read as a stand-alone the little bit of background you need for Kendrick is given pretty much in a nutshell. There was a little bit of an almost love triangle going on and usually I'm not a fan of those but this one was different (more on that later). Kendrick is a little hard headed at times and oblivious but his love and devotion to his sons and to his pack is what drives him and makes him loveable. Addie fell in love at first sight with Kendrick and his sons; with doing that she is willing to risk her life for their safety. Addie's strong will can deal with Kendrick's hard head and she proves that even as just a human she can handle her own.
Addie was just a waitress working third shift in the isolated diner in the middle of Texas when she fell in love. Kendrick would come in with his three son's right at closing and they would each have a slice of pie. Kendrick knows that he should keep moving, as an uncolored shifter without a home he is constantly on the run from being found out. But there is something about the beautiful waitress that keeps him coming back for more. It all changes when the diner is attacked one night and Kendrick must protect his sons and Addie by any means necessary. Addie's life is now in danger and she willingly goes with them. The relationship between Addie and Kendrick isn't easy. Kendrick has had a mate in the past and isn't looking for another one. He feels responsible for putting her life at risk so he keeps her with him thinking only he can protect her. Addie earns her place not only in is heart but that of his sons too. And with him being hesitant to start a relationship because of his previous one she knows she has to make the first move and show him it's ok to love again.
This new threat is an old friend of Kendrick's who was presumed dead. Kendrick must gather up the loyal pack members and seek help from the Austin Shiftertown shifters to keep his pack, his sons and Addie alive. Kendrick claims Addie as his mate not only because he wants her and can't let her go but also to show the pack she is his and not to be bothered with. That's supposed to be the unequivocal final word; however, Jaycee one of his seconds and has been in love with him for almost forever isn't making things easy for Addie. With the way the pack system works with shifters Addie has to prove herself stronger then Jaycee thinks she is and knows that things will not get any easier if Kendrick puts Jaycee in her place for her. I think that's why I liked this aspect of the story Kendrick is all about Addie, and Addie is strong enough to handle Jaycee on her own.
Overall, this is yet another outstanding action packed, sexy Shifter Unbound book. The conclusion of the book was very emotional and intense action. I hope our wandering polar bear gets his own story soon.
**ARC provided by Publisher**