He's always wanted her. Now's his chance to claim what's his.

School teacher Marceline Bellini gave up everything—men, sex, anything resembling a social life—to raise her young daughter. To be the perfect parent. But when she attends an engagement party in her standard stick-in-the-mud mode, her friends begin plying Marceline with shots. Just enough to convince her that a little fun doesn't sound like a bad idea... and having some naughty fun is an even better one.

Like finding herself deliciously pressed against a dark alley wall by the very familiar and über-hot bod of her best friend's older brother.

After years of waiting in painful silence, cop Zach Robinson finally has Marceline's attention. And man, does he have it. But nothing could have prepared either of them for the rush of fiery lust between them. So he'll just have to convince Marceline he's for real. And that a rainy, lust-fuelled romp is the first step to a lifetime of completely imperfect happiness…

Purchase: | Amazon | B&N |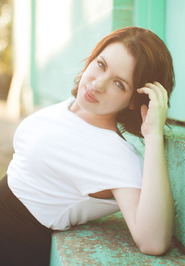 Katee Robert
learned to tell stories at her grandpa's knee. Her favorites then were the rather epic adventures of The Three Bears, but at age twelve she discovered romance novels and never looked back.
Though she dabbled in writing, life got in the way—as it often does—and she spent a few years traveling, living in both Philadelphia and Germany. In between traveling and raising her two wee ones, she had the crazy idea that she'd like to write a book and try to get published.
Her first novel was an epic fantasy that, God willing, will never see the light of day. From there, she dabbled in YA and horror, before finally finding speculative romance. Because, really, who wouldn't want to write entire books about the smoking-hot relationships between two people?
She now spends her time—when not lost in Far Reach worlds—playing imaginary games with her wee ones, writing, ogling men, and planning for the inevitable zombie apocalypse.
Places to find Katee:
Check out what's up for grabs.
Up For Grabs:
1

Surprise Gift from Katee
To Enter:
Please fill out the Rafflecopter form.
Special thanks to Katee Robert & Sizzling PR for sponsoring this tour-wide giveaway.
a Rafflecopter giveaway