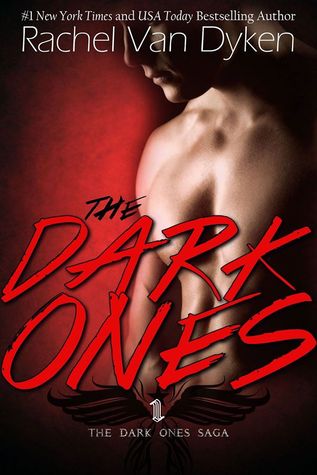 I could not have been more excited to read The Dark Ones by Rachel Van Dyken. I am a huge fan of hers, and after not reading paranormal for a few years I recently dove back into the genre with great results. So when presented with one of my favorite authors and a completely new paranormal series, I just knew that I was in for something really good. To say that this was merely good though would be an understatement! The Dark Ones was captivating, sexy and addictive! I couldn't put it down or get enough of these characters!
Genesis never expected to have her number chosen, though she had spent her life preparing for the possibility. But when she finds herself being picked, she knows that it is her task to serve the immortals. She never expects to find herself marked by not only the Dark One (half human/half angel) Cassius and the immortal vampire Ethan. Though Genesis doesn't know who to trust, she finds herself feeling safe with Ethan and the pull between them is strong. Cassius will stop at nothing to have her though, and it becomes clear to Genesis that there are many agendas at play here. But can Genesis avoid danger as she tries to figure out the new world she has suddenly been thrust into, when nothing is as she expected it to be?
I absolutely loved the characters here! Not only do we get to know Ethan and Genesis here, but we also get to know several others. I loved that we have vampires, werewolves, angels and humans here. They each had such strong and unique personalities, yet they all fit together perfectly. I loved seeing them interact, and I found myself falling for all of them over the course of this book. There are definite dark elements here, as is typical with a RVD story, yet there was also something lovable and redeemable about them each as well. Rachel Van Dyken has a way of making you see beneath the surface on every character she writes, and there is always something there that is unexpected. I really enjoyed ever bit of information as it was revealed here, and I honestly cannot wait for more.
The one thing I will say is that my biggest complaint about paranormal books is without a doubt the world building. At times it is so easy to get lost in all the details and it really just loses me most of the time. The Dark Ones started out very confusing and chaotic for me, and I will admit I was worried. But I kept with it because I was so drawn to these characters, and at about 30% in things started to pick up. We started getting more information and things started to fall in place, and it was at that point that I knew I was going to love this book. With each new piece to this puzzle revealed, I started to understand that we were experiencing much of this story as Genesis was. She had no idea what was truly going on, and it wasn't all revealed to her right away. I allowed myself to just experience this one and get lost in the story and the feelings this one brought out. There is so much going on here, and so much more to come that I really can't say much of what takes place here. This is one of those stories that you just have to go into blindly and experience for yourself. I will say that I thought Rachel Van Dyken did a fantastic job setting up this series though, and I am so intrigued with where things are going after the ending of this one. In true RVD fashion, this book was filled with love, loss, sacrifice, romance and plenty of laughter and witty banter. I am so glad that I read this book, and would highly recommend this one. Rachel Van Dyken is a favorite of mine and she continues to show me why with every single book of hers that I read.
**ARC Provided by Inkslinger PR**