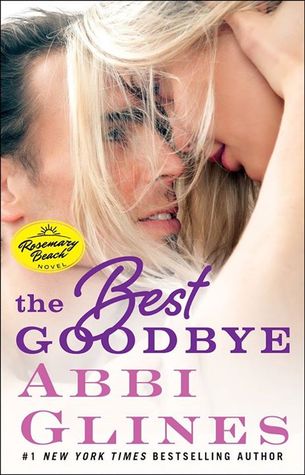 The Best Goodbye is the newest addition to the Rosemary Beach series by Abbi Glines. While this book is number 13 in the series, it is easily read as a standalone. I would really recommend reading these in order if possible though since the characters are interconnected and Captain is introduced earlier in the series, giving readers a glimpse at his life before this book. I really enjoyed this book, and I was so glad that this story was wrapped up in one book with no cliffhangers. So many of these characters have been given multiple books and while it is nice to get more of them, I am very impatient when waiting if there is a cliffhanger involved. So those that are impatient like me will enjoy that Captain's story is complete at the end of The Best Goodbye.
River "Captain" Kipling has been working for years for a crime boss, and he has finally left that world behind him. Though he is out and retired, he is finishing up launching a restaurant for his boss before he trains his boss's nephew to take over. But everything changes when he begins to notice something familiar about the redheaded waitress at the restaurant. Her laugh reminds him of a past that he has tried to move on from. The more he tries to avoid Rose Henderson, the more he finds himself drawn to her.
I liked these characters a lot! I have been waiting for Captain's story, and I knew that it was going to be a bit darker based on what we have previously have seen of him. I have to admit that I was really surprised here though, and while I had some idea of what his past was there was so much more before he started working for the crime boss! I found him really interesting, and with each new piece of the puzzle revealed I fell more in love with him. Rose was really interesting as well, and I liked her instantly. While she did frustrate me at times here, there was so much to admire about her. The chemistry between these two was clear, and I couldn't wait to see how things would turn out when everything was revealed.
Overall, I really enjoyed this book. It is hard to review this one since there are so many things that could give away the story here. I don't want to spoil anything, and I really think that this is one of those books that is best just experienced without a ton of prior knowledge. I enjoyed seeing the past and present and how things would end up for all the characters involved here. This is definitely one of my favorites from the series, and if it wasn't for Rose constantly jumping to conclusions and running I really think it would have been a five star book for me. I still highly recommend it, especially for those that are fans of the series. Abbi Glines has a way of drawing you right into a book and making you fall in love with her characters, and The Best Goodbye is a perfect example of that! I didn't want to put Captain's story down, and I think that readers are really going to love this book just as much as I did.
**ARC Provided by Publisher**