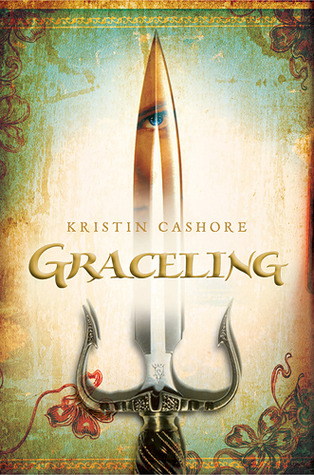 Katsa is the King's niece and her two different colored eyes marked her as a Graceling. In this realm such a distinction shuns you from society, and sends you to live with the king. Katsa is orphaned at a young age so she doesn't remember a time she wasn't in the King's castle. She accidentally kills a man, which then brings to light her Grace is for killing. The King sees the advantages of having her under his thumb and has her trained in weapons and fighting.
Katsa begins working with a group under the radar, trying to do good. One of the missions she goes on is to recover a kidnapped man of royalty in another kingdom. No one can figure out or understand why the man was kidnapped in the first place. Around the same time a Graceling prince from another kingdom appears. He is looking for his missing grandfather and suspects the man to be in Katsa's realm.
The prince is Po, and he and Katsa become fast friends. He presents a challenge to her when they practice fighting that no other person has been able to do. Likewise for him, her fighting ability outshines his. Katsa goes through a lot of change in her understanding of the world and her friends. Both the changes and the mystery of the kidnapped grandfather lead her on quite an amazing journey.
Po and Katsa's romance was heart wrenching. There were points I was worried that Kristin Cashore would create some sort of love triangle, but I was happily mistaken. The couple goes through some serious trust issues and hardships. The fantasy, mystery, and romance had exceeded my expectations by a long shot. I read this book very quickly, because I could not put it down! I highly suggest this for readers who love the mix of fantasy and romance. Don't let that YA label fool you, it had this late twenties woman obsessed!