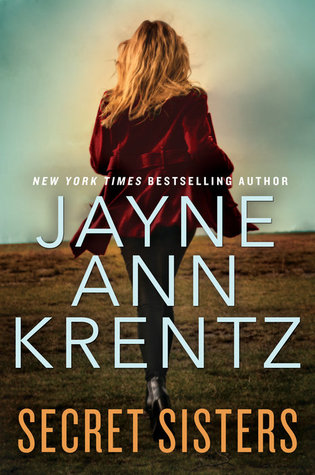 Secret Sisters is another outstanding novel by Jayne Ann Krentz. It is full of mystery, suspense and a bit of romance in a typical Krentz fashion. I love her romance suspense; it always keeps me on edge and it creeps me out just a little. The book starts off through the eyes of a child molester intent on kidnapping and raping one of the two girls he is watching. Later in the story we find out more but it was a hell of a way to start of a book. Her active setting and narration always pull me into the story, and it really is reminiscent of some of her earlier works. This book is a tangled web of lies, deceit, and murder.
Madeline just inherited her grandmother's legacy; a very popular chain of hotels and a deeply buried secret that just resurfaced. Eighteen years ago Madeline was kidnapped and almost raped by a man staying at her grandmother's inn, luckily her best friend went running to get helped and the man was stopped before he could. But something stopped her grandmother from going to the authorities, a briefcase that was sealed up in the wall of one of the rooms. Madeline is back on the island where it all started and where it will end. She was called in by the only other person who knew where the body was buried but upon her arrival she finds him at deaths door attacked by an intruder or so say the police. The death of the grounds keeper was suspicious enough she called in her bodyguard, Jack Rayner. Jack rushes to Madeline's side not just out of duty for the job but because he has been attracted to the woman since he first met her. Jack agrees with Maddie that it suspicious especially with what had happened their years ago and with man's last words. He even confides that he found her grandmother's death suspicious and has been investigating it. With that Maddie calls on her best friend, her secret sister, Daphne back to the island so they can all be safe Jack sends his brother, Abe, to bring Daphne in safely.
Several attempts on Maddie's life are made and thankfully Jack is there to save her. All of these events are connected to the contents inside the briefcase Madeline's grandmother enclosed in a wall; a briefcase that is now missing. Jack, Maddie, Abe and Daphne work to solve the mystery of the past and the current one. It all seems at the center of the web of deceit is the prodigious family, The Websters. The Webster patriarch made his money in the stock market. His oldest son Xavier is a psychopathic pyromaniac and the youngest is running for office. The whole family is really messed up.
Overall, this is another keeper it goes right up there with all the other books of her I own. This was a great twists and turns and a surprise WTF ending.
**ARC provided by Publisher**