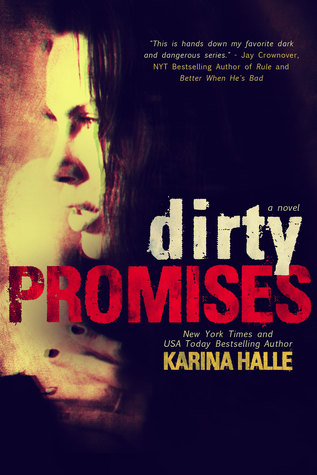 I honestly have no idea where to start about Dirty Promises by Karina Halle, except to say that she absolutely blew me away here! This book was everything and I felt all the emotions! Dirty Promises is the third book in the Dirty Angels Trilogy, and while the first two books can be read as standalones this one cannot. Also, readers with trigger issues definitely need to take the warnings seriously here as this one was dark and brutal, as you would expect for any story with Javier Bernal in it.
After the death of his sister Alana, drug lord Javier Bernal is a changed man. Where he once shared everything with his wife Luisa, he now pushes her away. As time goes on things get worse, and their marriage continues to decline. But when Luisa begins to find comfort in the arms of Esteban, Javier's right hand man, Javier begins to realize everything that he has already lost and could still lose. Javier is never one to give up though, and he refuses to stop until he gets everything he wants. With nothing left to lose, Javier is determined to get his revenge and once again claim his throne as king.
I absolutely love Javier and I have since the first time I read about him. I have to admit that I was seriously unhappy with him at the beginning of this book though. He absolutely broke my heart and infuriated me all at once. I know he was going through so much emotionally and that it confused him, but I hated the way he was dealing with things. He made some horrible choices and I wanted so badly for him to stop pushing Luisa away. Luisa was a different character here than we had seen before. She had lost some of her spark and was pretty beaten down with everything that had happened. She was in a situation that couldn't be helped, and unfortunately she was doing everything that she could, even when it wasn't enough. I felt for her just as much as Javier, yet just like with him I didn't like how she dealt with things either. The one thing I will say though is that while I wasn't always happy with what they were doing, it was absolutely real. I felt it all and it was devastating, yet it also felt so true and authentic. These two had never had it easy when it came to life, and their marriage was exactly the same. The one thing that never wavered though was the fact that despite everything these two loved each other and still had such an intense chemistry and connection even when they hated each other.
Overall, I honestly cannot say enough good things about Karina Halle. Her writing is fantastic and I don't know how she does it, but with each new book I really feel as though she just gets better and better. She continues to blow me away and the expectations are always so high because I know she will deliver every time. Dirty Promises was dark and gritty, and the perfect conclusion to Javier and Luisa's story. It was brutal and emotional, and I could not put it down. At the end of this book, Karina gave readers some news on a few upcoming books she has planned that feature characters in this universe and to say I am super excited would be an absolute understatement! I am so excited to get Evaristo's story, but I am even more excited for Vincente's! I have no doubt that it will be forbidden and beyond epic, and I need it! The waiting will just about kill me, but knowing that Karina will do it justice makes it all worth it. Another fantastic book here with Dirty Promises, and I highly recommend it and anything else with Karina Halle's name on it. Trust me you won't be disappointed.