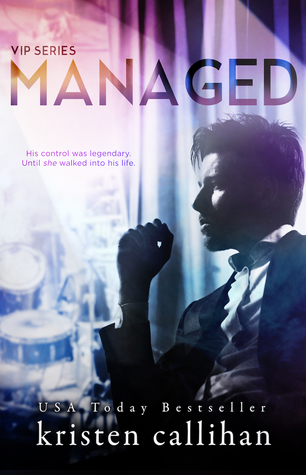 I have to admit I was a bit nervous going into Managed by Kristen Callihan. While I am a huge fan of hers, I wasn't the biggest fan of the first book in this series Idol. Each book in the VIP series is a standalone story, but the characters are interconnected. I just wasn't sure how I was going to feel about this book after the first, but luckily I did like this book better than I did Idol. It still wasn't my favorite book of Callihan's, but this one was enjoyable and I would rate it somewhere between 3 and 4 stars.
Gabriel Scott is the manager of the world's biggest rock band, but he hates flying. So when he finds out that the spare seat he purchased next to his own is suddenly taken, he isn't happy about it. Sophie thought that she had hit the jackpot being upgraded to first class, but she quickly realizes that it isn't all that she dreamed of. But soon they both actually start to like each other, and they find themselves in a situation they never expected. Can Sophie melt the ice around Gabriel's heart though, or will he continue to be as cold as everyone thinks he is?
I liked Gabriel and Sophie. They were sexy together and had chemistry right from the start. They had great banter, and I enjoyed their back and forth a lot. I will say that at times I felt like their maturity level was a little lower than their ages though, and sometimes their actions left me shaking my head a bit. But overall, Sophie and Gabriel were easy to root for and feel invested in. It was great to see familiar faces as well, and I really enjoy the group as a whole. The camaraderie between the band members and their friends/loved ones is so much fun, and I loved those parts of the story.
My biggest issue with this story though besides the immaturity at times was the ending. I felt like things could have been done so much better towards the end of the book. Communication was suddenly a huge issue and made for a big misunderstanding that easily could have been resolved with an adult conversation. Then just as quickly as things blew up, they were resolved with a cliched grand gesture and everything was neatly wrapped up for the reader. It just felt sort of disappointing after everything for it to end the way it did, and if I am honest wasn't fully satisfying for me. While I have enjoyed parts of this series, Kristen Callihan's Game On series is still my favorite from hers. I think that fans of rockstar romance stories and contemporary/NA romance will really enjoy this series, and if you liked the first book Idol, you are sure to enjoy this one as well. While I haven't loved this series, I have enjoyed it and look forward to more in the VIP series as well as from Kristen Callihan in the future.
**ARC Provided by Inkslinger PR**