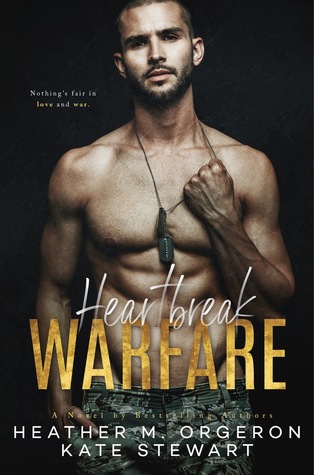 Heartbreak Warfare is the best book I have read in 2018! I am new to Heather M. Orgeron and Kate Stewart, but this book was absolutely fantastic and definitely won't be the last I read from them! Days after finishing this book, I am still thinking about it and ready to go back in because I am just not ready to leave these characters behind.
I'm not going to go into much detail here, please go in blind for this one. This story centers around 3 characters, Katy, her husband Gavin and a soldier she meets while deployed named Briggs. Katy and Briggs get off on the wrong foot when they first meet, but after experiencing some life changing events, everything changes between them. Once Katy returns home, she is no longer the person she was, and she struggles with what that means for her future.
There was not a character here that I disliked. They were each unique and had such genuine qualities about them that it was impossible not to love each of them. Gavin was amazing. A great husband and father. He was supportive and loving, caring and would truly do anything for those he loved. Briggs was everything you would imagine a soldier to be. Sexy and strong, smart and a bit on the cocky side. He was charismatic and I loved him right off. Katy was a devoted wife, mother and soldier. She had been raised with a duty to serve and really believed in helping others. She fit with each of them, and you could see such a strong connection to both of these men for very different reasons. There really was no wrong team here, and I was just hoping that we wouldn't end up with one of them totally heartbroken at the end of this, because none of them deserved it. I definitely had a favorite and one I hoped would be Katy's choice in the end, but I wouldn't necessarily call it the one I hoped would win because I felt that strongly about all of them and there weren't really any winners here with these hearts on the line.
This book deals with some very real and hard topics, and I loved that the authors didn't shy away from them. This book absolutely wrecked me at times, and I felt so much. I really think that this book is one that everyone should read though and I cannot get it off my mind. I will definitely be reading this one again and I highly recommend it! Hands down the best book I've read this year!
**ARC Provided for an honest review**