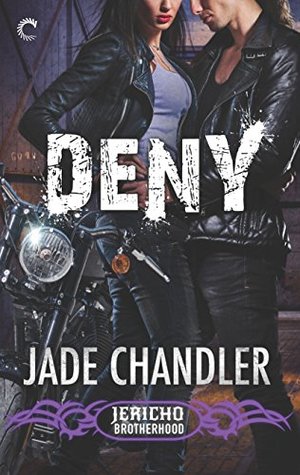 This book seemed to have everything for a reader like me. Motorcycle club, check. Erotic romance, check. Sex club, check. And a splash of BDSM, check. So what could go wrong? Well it appears that although I love all of these features in seperate books, if you put them all together in one book, it's a lot. Like half way through this book, my head was just spinning. There were so many things to focus on, I couldn't keep track of any one thing.
The book starts out really promising and the action continues throughout. Jericho stages a coup and overthrows his possible Dad to become president of his MC. His other possible Dad wants to take the club from him and starts stirring up all kinds of trouble at the BDSM club run by the MC. Jericho is trying to balance maintaining order in the MC and protecting the club employees. Enter Marr.
Marr is the sexy Dom at the club who Jericho wants in his bed but needs on his team. Marr is the inside woman at the club who may be able to get info that will help Jericho get the situation under control. The problem is that Marr wants to dominate Jericho in her dungeon and that's not really something he is up for. Let me take this opportunity to say neither am I. I'm not really the female Dom type of reader. I was also confused about how all this was going to work out considering we were dealing with 2 Doms.
The situation with Renegade trying to undermine Jericho keeps escalating. Both Marr and Jericho are forced to decide what is really important to them and the result is HOT! I couldn't decide how to rate this book but despite my disagreement with some of the plot twist and the number of storylines, I'm going with 4 stars. I had fun reading this book and I was thoroughly entertained.
**ARC provided by Publisher**