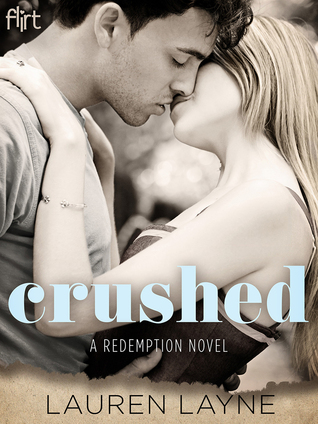 I can't even put into words how much I loved this book. Honestly I don't think there has ever been a book or more importantly a heroine that I've ever connected with like I did with Crushed. From beginning to end I couldn't seem to put my Kindle down. I wanted more and I just kept hitting next to see what would happen with Michael (Beefcake) and Chloe. This book just hit me and I feel like I'm on the verge of crying I loved it so much.
Chloe is my spirit animal. In all my years of reading I have NEVER connected with a heroine like I did with Chloe. Chloe was me and I was Chloe. Every feeling of doubt and the hurt she felt I've felt. I swear, in high school I was Chloe and the way that Lauren Layne portrayed Chloe and her feelings were so spot on. I felt that hurt and felt that pain deep inside. Chloe is real and honest. All her life she's felt like the chubby little sister that no one sees because everyone is looking at her perfect older sister. No one sees the pain that she tries to hid with sarcasm and jokes. That is until Michael comes along.
As for Michael, I mean who doesn't love it when a manwhore is brought to his knees. I haven't read the previous books in this series so I had no clue what happened or anything until Michael slowly began to reveal his past with Chloe and oh man is it a dozy. Michael has made some mistakes in the past and from those mistakes the life that he knew came crashing down all around him. In an effort to try to figure things out on his own he moves to Texas to deal with things and to confront his past. He's just trying to figure out what to do with his life and Chloe doesn't fit into those plans yet he can't seem to get push her away nor does he really want to.
I loved the chemistry between these two. Right off the back you can see that there is sparks between them and it was great to watch them both finally realize their feelings and then how they proceed with things. What I loved most is that they don't immediately jump into bed and they they have this connection. It's not really a friendship per se as Michael is so closed off but it's a slow build. One that that I really enjoyed is the way these two act with each other. Neither takes the others BS and both pretty much tell it like it is. And Chloe, OMG but that girl is hilarious especially when she's with Michael.
Honestly, I felt like reading Crushed was kind of cathartic for me. It reminded me of the despair I once felt and that I've now come out stronger and happier. Crushed is one of the best books that I've read this year and will definitely be topping my all-time favorite list. I just couldn't get enough and I honestly can't say enough good things about it. Believe me people, you WANT to read this book. It's just so damn good. Seriously, BUY THIS BOOK!!
**ARC provided by Publisher**