A USA Today bestselling author,
Elle Kennedy
grew up in the suburbs of Toronto, Ontario, and holds a B.A. in English from York University. From an early age, she knew she wanted to be a writer, and actively began pursuing that dream when she was a teenager.
Elle writes romantic suspense and erotic contemporary romance for various publishers. She loves strong heroines and sexy alpha heroes, and just enough heat and danger to keep things interesting!
There are a lot of romance heroes I'd happily use my hall pass with, so coming up with a short list was super tough! But I think I managed to whittle it down to the ones I love/lust after the most. Without further adieu, the heroes I'd be more than happy to get jiggy with if I had the opportunity (and if they were real!)
1) Butch O'Neal
,
Lover Revealed
(Black Dagger Brotherhood #4) by JR Ward. I know other BDB fans might disagree, but I think Butch is the sexiest brother. The Boston accent, the wisecracks, the whole human detective-turned-vampire warrior thing he has going on. I definitely wouldn't kick him out of bed, that's for sure.
2) Drew Baylor
,
The Hook Up
by Kristen Callihan. Sexy quarterback? Check. Knows what he wants and goes after it? Check. Pure perfection? Check. Sometimes I find "perfect" heroes to be a little too bland—I like the ones who have rough edges, or who are asshole-alpha, but Drew is a rare exception for me. I fell in love with him from Page 1!
3) Jamie Frasier
,
Outlander
by Diana Gabaldon. I'm not even going to list all the reasons I love him. It's pretty self-explanatory. He's just…happy sigh.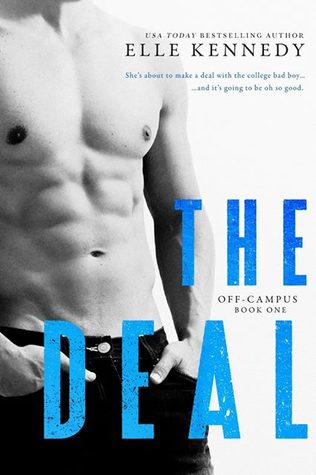 She's about to make a deal with the college bad boy…




Hannah Wells has finally found someone who turns her on. But while she might be confident in every other area of her life, she's carting around a full set of baggage when it comes to sex and seduction. If she wants to get her crush's attention, she'll have to step out of her comfort zone andmake him take notice…even if it means tutoring the annoying, childish,cocky captain of the hockey team in exchange for a pretend date.




…and it's going to be oh so good




All Garrett Graham has ever wanted is to play professional hockey after graduation, but his plummeting GPA is threatening everything he's worked so hard for. If helping a sarcastic brunette make another guy jealous will help him secure his position on the team, he's all for it. But when one unexpected kiss leads to the wildest sex of both their lives, it doesn't take long for Garrett to realize that pretend isn't going to cut it. Now he just has to convince Hannah that the man she wants looks a lot like him.



Check out what's up for grabs.
Up For Grabs:
1

eBook copy of The Deal + Kindle copy The Hook Up
To Enter:
US/CA ONLY.
Please fill out the Rafflecopter form to enter giveaway.
**Don't forget to enter the grand prize giveaway!
Special thanks to Elle Kennedy for sponsoring this giveaway.
a Rafflecopter giveaway